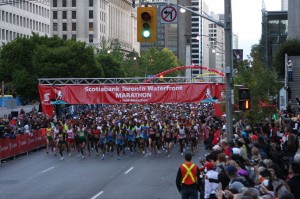 Many of you already know the story.
You already know how I was a runner way back when, and then stopped and completely neglected my physical health after the birth of my kids. You know how I always wanted to get back into running, but never found the discipline. You know how I became completely comfortable as a couch potato but never quite got rid of that residue of regret.
You also know how an email landed in my inbox one day that completely changed everything. The email was an invitation for me to join the team being put together by the Geneva Centre for Autism for the forthcoming Scotiabank Toronto Waterfront races. Participants could run the 5K, half-marathon or marathon, and in the process raise funds for services for children and youth with autism.
It turned out to be just the motivation I needed. Within 24 hours I had made the transition from couch potato to speed demon extremely slow runner. Six months later, I had dropped almost sixty pounds and I was standing exhausted but triumphant at a half-marathon finish line, clutching my finishers medal and sobbing with emotion.
Here I sit, three years later, getting ready to embark on training and fundraising for my fourth Run for Autism. Since that first half-marathon in 2009, most of the weight has stayed off, my half-marathon time has improved by almost ten minutes, and I have raised over $2000 for the Geneva Centre for Autism.
This year's race is on October 14th. My fundraising goal is a cool thousand dollars. This means that for the next four months, I will be shamelessly asking people for money – friends and family, complete strangers, and everyone in between. The money will go towards supplies and services for children and youth with autism. These are services that can provide skills that will last a lifetime, enabling people like my son George to lead happy, productive lives as fully integrated members of their communities.
Some examples of what $1000 can do are as follows:
Art supplies for 40 children and young adults
Sports equipment for 20 children and young adults
Musical instruments for 15 children and young adults
Job training for 15 young adults
Field trips for 10 children and young adults
Summer camp for 4 children and young adults
2 iPads loaded with apps for individuals with autism
1 piece of state-of-the-art sensory equipment
This list goes to show that every single cent really does make a difference. If you have the ability to, please consider sponsoring my Run for Autism and contributing to this incredible cause for my child and for other people with autism.
To donate, please visit my fundraising page.
It takes a very special kind of village to raise a child with special needs. Today, I invite you to be a part of my village.
(Photo credit: Brightroom Professional Event Photographers)