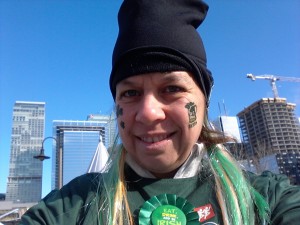 Three weeks ago, my sports medicine guy told me that I was not to run the half-marathon that I was registered for the following weekend. Through my own stupidity, I had aggravated my old ankle injury, and the doctor practically guaranteed that if I ran that that half-marathon, I would be out for the rest of the season.
If I behaved myself (in other words, if I followed doctor's orders), I would be allowed to run the St. Patrick's Day 5K. So I scaled back my training and paced myself more appropriately. When the doctor told me to run on the treadmill, I ran on the treadmill. I only ventured out onto the road when he said I could. I behaved impeccably, and sure enough, I was cleared for takeoff. When I asked the doctor if he wanted me to exercise any caution during the race or if I could just go hell for leather, he said, "Run like you stole something."
All right, then.
If I was going to run like I stole something, I might as well have fun with it. I decided to dress up a little, in keeping with the spirit of St. Paddy's Day. And so on the morning of the race, I got onto the subway with temporary Irish-themed tattoos all over my face, ridiculous green-and-white striped socks going all the way up to my knees, and green and orange hair extensions attached to my hat. I didn't even stand out. Torontonians – even those not of Irish descent – take St. Paddy's Day very seriously, so I blended right in. It was the people dressed normally who stuck out like sore thumbs
I got to the start line with about half an hour to spare. Usually I like to arrive at races at least an hour ahead of time, but it was icy cold, so I was glad to have less time for standing around. I checked my bag and did some half-hearted warm-ups. After my injury, I wasn't really expecting to be a speed demon at this race. My goal was to beat 32 minutes.
Ten minutes before the start, I stood at the start line among about a thousand other runners, almost all of whom were dressed for the occasion. It was fun to see all the leprechaun hats and bright green wigs. The starting siren went, and we were off.
My strategy was simply to go as fast as I could, but I got boxed in by the crowds at first. I was only really able to take off after 500 metres or so. The course was pleasant: downtown Toronto is kind of flat, so I was able to go at a fairly consistent pace. The mood was festive throughout. Runners were laughing and joking, admiring each other's outfits, and cheering each other on. Some had liquid in their water bottles that looked suspiciously like beer.
The best part of the race was the inspiration I drew from the runners around me. The Saint Patrick's Day run is organized in support of Achilles Canada, an amazing organization that enables people with disabilities to be athletes. There were a lot of runners on the course with a variety of challenges. There were blind athletes running with guides, people in wheelchairs, double amputees with prosthetics.
It was humbling to witness the enthusiasm and dedication of these athletes. I felt truly honoured to be among them.
I was absolutely spent at the end, and struggled to get through the last kilometre. But when the finish line came into view, I felt that magical surge of energy, and I was able to kick it up a notch, finishing in a time of 30:32.
Not bad for a post-injury first race of the season. I feel like this run has given me the kick-start I have been needing to start my season of training in earnest.
One final thought: the free post-race beer went down very well!
(Photo credit: Kirsten Doyle)