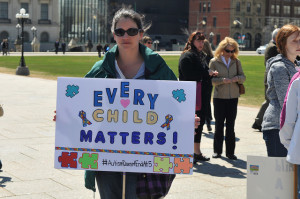 It has been a long time since I have posted here. I have been dealing with the stress and chaos of life. This is nothing unusual, and it certainly does not set me apart from other people. Lack of time is a symptom of twenty-first century life. Several weeks ago, though, something strange happened in the Ontario autism community. The provincial government announced that it was cutting off IBI services to children with autism aged five and older, and while other autism parents organized and attended protest rallies and made YouTubes, I was shocked into immobility. I decided to use my platform as a writer to send the message that autism doesn't end at five, and I collected stories from autism parents. But then I was attacked by a massive case of writer's block. This news is so big and so devastating, and I was struggling mightily to process it.
For those who are not familiar with IBI, it stands for Intensive Behavioural Intervention. It is one-on-one therapy that is administered for several hours a day, usually over a period of two or more years. It is based on a system of prompts and rewards, and it is tailored for each child that receives it. While there are some exceptions, IBI is highly effective for children with autism. When I say "highly effective", what I really mean is "potentially life-changing".
The Ontario government is telling parents that IBI is not effective for children aged five and older. There are many of us who know better. This week, I will be sharing stories of children whose experiences defy what the government is claiming. I will also share stories from parents who have suffered the devastation of having their children removed from the IBI waitlist.
The first story, featuring my son George, will be posted tomorrow. If you have already shared your story with me, it will be posted this week. If you have a story that you would like to have told, send an email to kirsten(at)runningforautism(dot)com. I promise to publish every story that I receive. No voice should be left unheard.
The Ontario government needs to get the loud and clear message that autism doesn't end at five.
By Kirsten Doyle. Photo credit: QUOI Media Group. This picture has a creative commons attribution license.