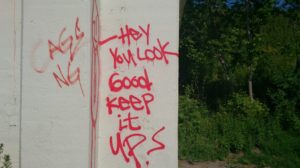 A couple of days ago, I woke up not wanting to run. I had this whole list of things that I would rather do than go out and run, like setting my face on fire, declawing angry cats, and listening to country music.
We all have days like that. I'm sure that even the most dedicated athletes sometimes look at their training schedules and go, "Ugh. I really don't feel like it." I have had enough of those days to have developed a Ways To Get Off Your Ass And Go Running list.
1. Have your running gear laid out in a visible place before bedtime the previous night. There is nothing quite like the guilt induced by a pair of neglected running shoes staring balefully at you each time you walk by.
2. Think of how great you will feel when your run is complete. At the same time, think of how much you will regret it if the day passes by without you going for your run.
3. Think of the reasons you run. Are you doing it for health? Enjoyment? A cause? To win races? You are not going to serve your purpose by letting lack of motivation win.
4. Don't let yourself make excuses. When I have those days, I'm always tempted to say, "I don't have time," or, "I don't really feel well," or, "Maybe it's too hot to go running right now." Obviously, if you're coughing up a lung or it's hot enough to fry an egg on your driveway, you shouldn't run, but you'll know if you're making excuses. If you are, you need to beat down those inner voices and get out there.
5. Think of how missing a run will disrupt your training schedule. Runners live by their training schedules. If you skip out on this today, you will have to run tomorrow. But then you would have to rest the following day, and that would mean missing your scheduled tempo run, or hill training, and… You get the picture. Do you really want to mess up your schedule?
6. Break your run into chunks. Instead of thinking in terms of the whole distance, just tell yourself you'll go for one or two kilometres and then see how you feel. Chances are that by the time you're a couple of kilometres in, you'll wonder why you were reluctant to run.
7. Choose a route with variety. This means different things to different people on different days. Sometimes you may want to combine road and trail, and sometimes you'll go for a route that offers varied scenery. Variety can simply mean a route that involves a number of left and right turns. Variety keeps things interesting, and it keeps you mentally engaged.
I went out for that run a couple of days ago. Check out today's vlog to find out how I felt about it.
This is an original post to Running for Autism by Kirsten Doyle. Photo credit to the author.