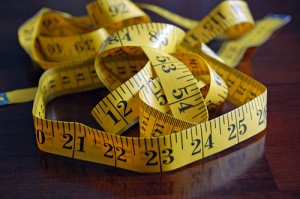 I am two weeks into the Body for Life challenge, and considering that I was only able to get in one run this week, I am pleased with my progress.
First, the hard numbers:
* I have lost two pounds this week, and four pounds in total.
* I lost one inch from my hips and one inch from my waist this week (in total, I have lost two inches from my waist and one from my hips).
* My oversized boobs are just as oversized as they were two weeks ago.
I haven't dropped a clothing size yet, but I have noticed that my current size is feeling less snug. There is a bit more wiggle room around the vicinity of my rear end.
This may seem somewhat paradoxical, but although I have my second cold in as many weeks, I actually feel healthier than I did before I reformed my eating habits. Yes, the snotty nose and sore throat aren't great – me and my older son have been passing a cold back and forth like a football. But I have not had any cravings for junk, my energy levels have been a lot more consistent, and now that my body is getting used to smaller portions, I don't feel hungry during the day and I'm not weighing myself down with large quantities of carbs.
Most of the recipes I tried this week were a success. Although I am following the Body for Life system, I am using recipes from the Precision Nutrition plan, and I love them. The recipes are reliable in terms of yield and cooking time (did you ever follow a recipe to a T, only to find that whatever you were cooking needed an extra 30 minutes in the oven?), and they are nutritious and tasty. There were a couple of misses this week, but they were misses because of personal taste rather than the recipes themselves.
As I said earlier, I only ran once this week. I had a high-pressure week at work, and then I caught a cold. The cold is on its way out, and work will be less intense this week, so I have high hopes for a more active week.
I still need to plan my time better and do more meal prep during the weekend. I am spending so much time on food preparation during the week that I am going to bed at a ridiculous hour. I'm afraid that if I don't figure out a solution, this will not be sustainable. The time issue is definitely my biggest threat to this whole healthy eating plan.
How do you manage to maintain a healthy eating regimen? Do you have any tips on how I can save time during the week?
(Photo credit: Jamiesrabbits. This picture has a creative commons attribution license.)