Several months ago, I became a part of the WEGO Health network – a group of people advocating for health, either for themselves or for a loved one. My health advocacy serves a treble purpose. First, I want to do my part for the autism community on behalf of my son George. Second, I want to share how running helps my physical and mental health. Third, I am tentatively starting to talk about my own mental health, sharing stories from my past, in hope of removing the stigma surrounding depression and other mental illnesses.
Recently the folks at WEGO Health announced that November is National Health Blog Posting Month, and they issued a challenge for bloggers to publish a post every day for the month of November. I am never one to shy away from a blogging challenge, so here I am! Some days I will go with the suggested prompt, other days I will just follow the lead of my writer's instinct. I will even have a couple of guest posts along the way.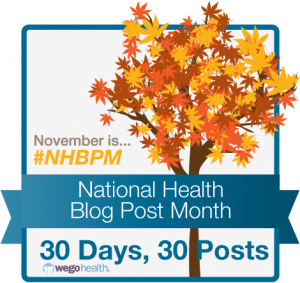 Some time ago, my friend Phaedra tagged me in a post on her own blog. Phaedra is the kind of runner other runners want to be like, and she coached me through a phenomenal running season, in which I clocked up no fewer than five personal bests. In her post, Phaedra gives the answers to ten questions, which she then passes on to fellow runners. Phaedra's answers can be found here. My answers are below, and I invite all runners to post their own responses and leave a link in the comments below.
1. Best run ever? In August, I did the Midsummer Nights Run 15K. For some reason 15K has always been a challenging distance for me – far harder than the half-marathon, which is six kilometres longer. The Midsummer Nights Run is on a course that I have tackled a couple of times before, and I have never done well on it. I was dreading this race because I had such big mental issues with the course. This time, though, I found my zone early on in the race. I hit the runner's equivalent of the "sweet spot" golfers are always on about. I well and truly conquered the course, beating my previous personal best by a whopping 13 minutes and with energy still in the tank.
2. Three words that describe your running? Determined, focused, stress-relieving.
3. Your go-to running outfit? In the summer, I wear one of two pairs of running shorts – the leg-hugging kind, so my thighs don't chafe. I pair that with either my Energizer Night Race T-shirt or one of my Geneva Centre for Autism shirts. In the fall, I replace the shorts with a pair of longer lightweight tights, and in the winter I wear whatever will prevent bits of me from freezing off in the cold.
4. Quirky habit while running? When I turn onto my street at the end of a long run, I pretend to be an elite athlete from Kenya. I sprint down the final stretch and fantasize about having run the entire distance like that, and when I step over the line dividing the road from my driveway, I raise both arms in a victory salute and pretend I am breaking the tape at the finish line of a race. It will probably never happen for real, but a girl can dream, right?
5. Morning, midday, evening? In general, I am an early morning runner. In the winter, though, a lunchtime run in the crisp cold air can be a purely magical way to get a break from the chaos of the workday.
6. I won't run outside when: there's lightning. There are a lot of trees in my neighbourhood, and I would worry about being struck, because that would just be my luck. I also tend to avoid the wind. I don't mind running in rain, snow and sleet, but I absolutely detest strong wind. For some reason, it makes me anxious and edgy, often to the point of a panic attack.
7. Worst injury and how I got over it: Almost three years ago, an appointment with a chiropractor went dreadfully wrong – a result of pure bad luck rather than any fault on the part of the chiropractor – and I ended up with a pinched nerve in my neck. My left arm was in absolute agony, and the fingers on my left hand were numb. I had to go to the emergency room twice, and for the next six weeks I cried myself to sleep while I was waiting for the Percocet to kick in. Physiotherapy ultimately sorted me out, and to this day, I have numb fingertips.
8. I felt like a most badass mother runner when: I spent virtually all of the Good Friday Ten-Miler neck and neck with an older but much fitter gentleman who issued a friendly challenge to me, and then near the end of the race, I tore away from him and beat him to the finish line.
9. My next race is: the Tannenbaum 10K at The Beach in Toronto, on December 2nd.
10. Potential running goal for 2013: I'd like to see if this old body can handle three half-marathons in a single year. I'd also love to break an hour in a 10K race and beat 2:15 in a half-marathon.