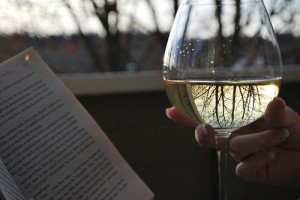 Several years ago, shortly before George was diagnosed with autism, I realized that I needed a life. I can trace this realization to the exact moment it struck me. George, who was three, was at daycare, and one-year-old James was taking a nap. For all intents and purposes, I was alone. I was wandering from room to room picking up toys and gathering dirty laundry with only the background noise of the TV for company. The TV was tuned to TVO Kids because I had been too lazy to change the channel. An episode of Max & Ruby came on (for the uninitiated, Max & Ruby is an immensely annoying kids' TV show featuring two child bunnies with unaccountably absent parents), and I actually sat down to watch because it was an episode that I hadn't seen.
About three seconds later, I was struck by how ridiculous this was. Here I was, a grown woman with a university education, making a conscious choice to watch a TV show aimed at three-year-olds. What had happened to me? Clearly, I needed to take urgent action to prevent my brain from turning to mush. I decided to resurrect old interests that had gone by the wayside, and to start investing more time and effort into my friendships.
Since then, life has become more complicated for a variety of reasons, and so it has become even more important for me to have my me-time. Here are my five favourite things to do when I need to disconnect from the responsibilities of parenting.
1. Go for a run. I'm not sure whether it's the fresh air or the motion, but there is something magical about the way running restores my mental equilibrium. This weekend, I was feeling an incredible amount of sadness. I went out for a long run, and when I got back I discovered that I had left the sadness out on the road somewhere.
2. Book, wine and bubble bath. This is my favourite way to unwind after a long day. When the kids are asleep, I run a bubble bath, and then I retreat from the world with a glass of wine and one of the Indigo Books new book releases.
3. Time with friends. The trouble with most of my friends is that they live in other countries. I don't get out socially very much, but I still take whatever opportunities I can to grab lunch or coffee with friends. And for the friends who don't live in the same city as me, there's always Facebook. I have some amazing friends who I've never actually met in person, and those friendships are just as important to me as my "real-life" friends. While some people might criticize me for "wasting time on Facebook", what I am actually doing is spending time with friends.
4. Learning new things. I am enrolled in a post-graduate writing certificate program, that I'm hoping will lead to a Masters degree program. Since enrolling in the program and successfully completing the first two classes, I have been reminded of how much I love to learn. Yes, it's hard work, and I bitch and moan about deadlines and so on, but my complaints are really just hot air. I love being in school, and I love the feeling of accomplishment that I get from it.
5. Nocturnal TV time. I have bouts of insomnia from time to time, and there are few things worse than lying awake in the middle of the night worrying about stuff like whether your child with autism will be OK after you've shuffled off your mortal coil. When it feels as if the anxiety will overtake me, I get out of bed and curl up on the couch sipping wine and watching my Friends DVDs. Sometimes, all I need is a bit of solitude combined with feel-good comedy.
What are your go-to methods for escaping reality?
This is an original post by Kirsten Doyle, published in accordance with my disclosure policy. Photo credit: jonathanhoeglund. This picture has a creative commons attribution license.