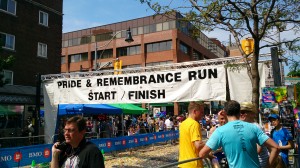 A few days ago, one of my Facebook friends sent me a private message berating me for my pro-gay stance. The author of the message wanted to know how I, as a parent, could possibly condone "the unnatural, animalistic behaviour of those people". Here's an excerpt from my response:
While I respect that you may have differing opinions to me, I have to admit that I am confused by your message. How can any behaviour be both unnatural and animalistic? Do those two words not contradict each other? After all, when people want to learn about nature, they observe the behaviour of animals.
I added that anyone who was so deeply offended by my views was welcome to delete me as a contact, and that I would bear no ill feelings if this was the case. The person concerned did exactly that, and it didn't bother me. It's not the first time I've lost a friend over this particular issue.
About a decade ago, my husband and I were having lunch with a friend who let slip that he hates gay people. He told us that as a college student, he had participated in gay-bashing incidents, and that to this day, he was proud of that. The friendship pretty much ended then and there. As the sister of a gay man, I was deeply offended. I cannot possibly be friends with a person who would beat up my brother and then brag about it.
For some reason, those in the anti-gay camp keep challenging me on my opinions. Here are a few things I would like to say to people who insist on hating gay folks. Hopefully it will answer some of the questions that I get asked about this issue.
1. I don't care what the Bible says. Not everyone follows the Bible, and even if you do, you should consider that persecuting gay people is not something that Jesus would do.
2. Being gay is not a choice. Gay people don't decide to be gay any more than you decide to be straight. In fact, gay people often decide to be straight in order to make society happy, and more often than not, the consequences are tragic.
3. I don't care what gay people get up to in the bedroom. I don't care what you get up to in the bedroom, so why should I give a damn about what they do? It's none of my business, and it's none of yours either.
4. It won't bother me if one of my kids turns out to be gay. If my boys are happy, and if their relationships are based on mutual respect, why should I care?
5. Gay people can parent children just as well as anyone else. The research bears this out. One study after another has shown that a child's outcomes have nothing whatsoever to do with the sexual orientation of his or her parents.
6. The children of gay parents are not more likely to be gay themselves. And if they were, so what?
7. Gay marriage has been legal in Canada since 2005. The sanctity of traditional marriage is doing just fine, and so far, the "slippery slope" has not resulted in anyone wanting to have sex with their neighbour's goat.
8. Gay people do not try to "convert" straight people. Just because a gay man is seen talking to a straight man, that doesn't mean he's chatting him up. It just means he's having a conversation with another human being.
I respect that other people have opinions that differ from mine, but I have to admit to some bafflement in this area. Why do people care so much about the personal lives of others? I always say that if you're opposed to gay marriage, don't marry a gay person.
Live and let live. It really is that simple.
This is an original post by Kirsten Doyle. Photo credit to the author.