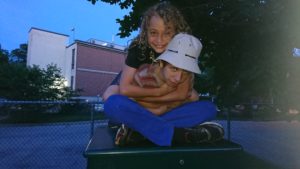 Welcome, welcome, welcome to my resurrected blog! I've been away for a while, just dealing with life. Several things have been getting in the way of blogging lately, like an insane workload, a car accident (everyone is fine) and the odd little mini-crisis here and there. A few updates:
My autism boy is off to high school in the fall! It was sad to say goodbye to the elementary school that gave him such a great start to his education, but we are excited about this next phase in his life. In other news, he is almost fourteen and he's bigger than me.
My runner boy is – well, he's running. He's going into Grade 7 and he's just closed out his first track and field season. He loved every minute of it and made some great gains, and he's ready to step up his training and racing to a whole new level. Oh, and when he runs 5K races with me, he leaves me in his dust!
My own running has suffered of late, mostly because of a serious knee injury that I sustained in the most ridiculous way. What happened was, I was going out through the garage to lock the side gate, and I tripped over the lawnmower. I went crash, boom, bang and smashed both knees on the cement floor. My left knee was a little banged up, but it was fine. Unfortunately, I managed to twist my right knee when I fell.
This whole fiasco put me out of running for a good three weeks, which was too bad because I had only just gotten back into it. My knee still hurts when I turn it at certain angles, but it can take impact again, which means I'm back on the road.
One good thing did come out of my knee injury. While I was unable to run, I didn't want to lose the progress that I had made prior to my fall. So I decided to get my cardio fix in the pool. It had been far too long since my last swim, and I had forgotten just how much I love swimming. Swimming was, in fact, my first athletic love. I swam competitively as a teenager, more years ago than I care to mention. After hurting my knee, I started spending large amounts of time in the pool, and I enjoyed it so much that swimming has become a permanent fixture in my training schedule. I am even starting to think of multi-sport racing.
One final bit of news: I have started a vlog with my runner boy! Check out our channel at  https://www.youtube.com/channel/UCTce260EPfkZ6feFLkr_U5g and subscribe to get our updates!