Today I chose a bonus prompt in the National Health Blog Post Month challenge: offer advice to new doctors and nurses.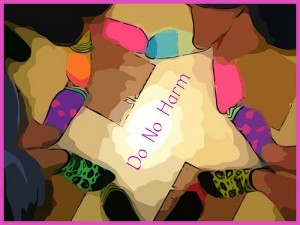 Congratulations! You have made it through medical school in one piece and you have taken a version of the Hippocratic Oath, in which you promised to do no harm.
As you hammer a nail into the wall of your office to hold your shiny new certificate, I have some words of advice for you, based on my own encounters with medical professionals over the years.
* Most of us have encountered doctors who think their medical degrees make them instantly superior to anyone else. They are the ones who are arrogant and condescending, and do not take into account that their patients are human beings with feelings. Don't be one of those doctors.
* Most of your patients recognize the value of medication where appropriate, but please don't over-medicate. Antibiotics are fine, but not every time someone sneezes.
* Just because my kid is energetic, that doesn't mean he has ADHD. It just means he's a kid. Don't tell me I should medicate my kid for being a kid.
* If a mom tells you she's concerned about her child's development, don't give her the run-around. Don't make her fight for a referral, and don't tell her to wait. That waiting can be costly to a child who could do very well with early intervention.
* Be gentle when handing down a child's diagnosis to his or her parents. Remember that the parents' lives are about to be changed by what you tell them. And remember that what the parent of a newly diagnosed child needs more than anything else is hope.
* Don't keep your patients waiting. If someone makes an appointment for ten in the morning, they don't want to wait until noon before you see them. Double and triple booking your patients tells them that you have no respect for their time.
* If you see people who seem wary and distrustful, don't take it personally. It's just that there are many "bad" doctors out there and some of us have been burned. If you treat your patients with kindness and respect, you will earn their trust.
What advice would you give to a new doctor?
(Photo credit: mrsdkrebs. This picture has a creative commons attribution license.)