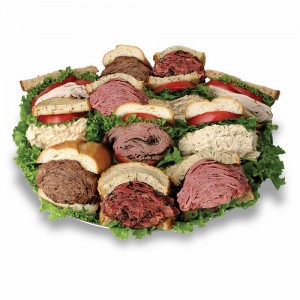 When my father-in-law died a little more than ten years ago, things were a little overwhelming. I was almost four months pregnant with my older son and my brain was in a fog. On top of that, I found myself meeting most of my husband's extended family for the first time, en masse, at the funeral.
In most families, this would mean a few cousins, uncles and aunts, and maybe the odd niece or nephew. But while my husband's immediate family is small (he is one of two boys), there are several aunts and uncles, and dozens of first, second and third cousins, plus their respective husbands and wives, boyfriends and girlfriends. There are so many of them that it took several weddings, funerals and christenings before I could remember all of their names.
At this particular gathering – my father-in-law's funeral – it was all too much. Don't get me wrong, my husband's family are lovely people, as are their families. But in my pregnant, emotional state, it was overwhelming to meet so many new people at an already stressful event, and to try and fit in as the newest member-by-marriage of the family.
This was exacerbated by the fact that we also announced my pregnancy to most of the family that day.
You know how it goes. "Hi, I'm Kirsten. By the way, I'm popping out a baby a few months from now."
OK, it wasn't exactly like that, but you get the picture.
At the post-funeral shindig at my mother-in-law's house, the alcohol flowed freely. This is an Irish family, after all. You can't give a beloved Irish patriarch a decent send-off without drinking a few toasts in celebration of his life. I so badly wanted to grab a bottle of red and retreat to the nearest corner, but I didn't think my unborn child would appreciate that. I halfheartedly drank some orange juice and then wandered through the crowds to the dining room, where the food had been laid out. I might not have been able to drink, but I could sure as hell eat. As soon as the morning sickness wore off, there was no end to my appetite.
The food looked lovely. My mother-in-law and her sisters had made some appetizers and heated up lasagna, and there was food that looked as if it had come straight from the catalog for Subway sandwich platters – which wouldn't have been a bad idea, given the number of people there.
Sadly though, I couldn't eat it. In spite of the variety, the beautiful presentation, and the fact that the table was virtually collapsing under the weight of all the platters and salad bowls and casserole dishes, there was absolutely nothing there that I wanted to eat. Contrarily, all I wanted was Taco Bell, which was strange because when I was in a non-pregnant state, Taco Bell food had always made me gag.
In spite of the snow, I went outside. There was nothing else for me to do. I couldn't drink, I couldn't eat, and I was all peopled out. Standing by myself in the snow was just what I needed.
The crisp cold air must have done something to clear my head, because after a few minutes, I suddenly felt OK. I went back inside, ate some of the food that just minutes before had turned my stomach, and spent time with the family, my family, the village who would become a part of raising my child.
This is an original post by Kirsten Doyle, published in accordance with my disclosure policy.

Photo credit to ellieward90. This picture has a creative commons attribution license.