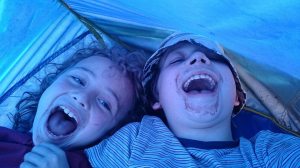 It is a cold snowy afternoon, and the boys have just finished doing their homework. George – eleven years old now and as tall as me – is sitting on the couch trying not to cry. I am on the floor with my back up against the couch, holding his foot in my lap. I start ministering to his sore toe as gently as I can, knowing that no matter how hard I try, it's going to hurt.
For the last couple of weeks, George has been plagued by an ingrown toenail. He was at the doctor earlier in the week – a feat in itself for this boy with autism who finds doctors to be mysterious and scary – and I am carefully following the care-and-cleaning instructions that I have been given.
He tries so hard to be brave as I clean and bathe his toe, but he cannot help getting distressed. As he cries out in pain, James suddenly appears in front of us. James – nine years old and full of energy – is just in from throwing snow in the back yard. His gaze moves from his brother on the couch to me on the floor surrounded by First Aid supplies.
"I want to do it," he says.
"You want to do what?" I ask, not understanding.
"George's toe," he says. "I want to do it. George is my brother. I'm the one who gets to take care of him."
I regard my son, blown away yet again by how much love and compassion is within him. I think about the practicalities of him dressing George's toe and how I have already been kicked several times during these First Aid sessions. I don't want James to get hurt.
But my Spidey-sense is telling me to listen to James. I switch places with him, and following my instructions, he calmly takes care of George's toe. George is still crying but he is visibly less distressed. Maybe James's small, light fingers are gentler than mine. Or maybe George is responding to the love of his brother.
James uses a little bit too much of the antiseptic lotion, and the dressing and bandage are a little haphazardly applied. But none of that matters next to the waves of kindness that are radiating from James.
With the job done, James gently kisses the newly applied bandage and gets onto the couch.
"You're my George," he says, wrapping his arms around his brother.
This is an original post by Kirsten Doyle. Photo credit to the author.