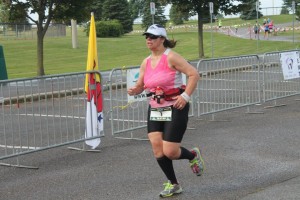 Every year, my race calendar is a combination of the old and the new. Although I like exploring new races and new challenges, there are a handful of events that I put into my calendar every year. One of these is the Durham Quarter Marathon, or DQM. This event has all of the right ingredients, like great organization, a scenic course and a great cause.
This year I was kind of bummed, because I came down with a nasty cold several days before the race. For most of the week, it looked doubtful that I would be able to run, and it and touch and go right up until the night before the race. Fortunately, though, my immune system did what it does best, and I woke up on the morning of the race feeling  just a tiny bit congested but otherwise fine.
I've missed races due to illness or injury before, and it's never fun. This event in particular is one that I never want to miss (the only race that I hate missing even more is my annual autism fundraising run). Here are some reasons why I love this race so much, and why I believe all runners in the GTA need to try it out at least once.
1. DQM raises funds for a cause that I am absolutely in love with. The Refuge is a place in Oshawa that helps homeless youth. They provide meals, basic supplies, clean clothing and a place for homeless teens to go. DQM does not merely support this cause by putting logos everywhere. The organizers provide a very practical way for runners to make a real difference. Instead of getting one of those reusable shopping bags that runners already have too many of, you get the race kit in a small cardboard box, which you can then fill with supplies and return to The Refuge at a later date.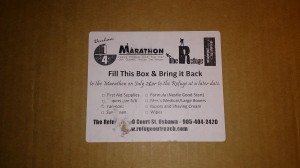 2. DQM is one of the smaller events. It does not have the massive numbers of the Scotiabank Toronto Waterfront Marathon, or the Yonge Street 10K. This means two things: you don't have to fight ridiculous crowds in order to be squeezed into your corral, and the race has a wonderful community feel. When you run DQM, you feel like you're running with friends. That community spirit travels with you along the entire course.
3. The course is absolutely marvelous. The run starts at the Oshawa City Hall (just a block away from free covered parking), and it runs along the Oshawa Creek and the Waterfront Trail. The last little bit offers a lovely unimpeded view of the lake. It's a net downhill course, which means that the start is at a higher elevation than the finish. There's something in it for runners of all levels – a nice combination of ease and challenge. There are a couple of decent uphill stretches in the second half, and a lovely little downhill right at the end, so that runners can build up good momentum for a sprint to the finish line.
4. The logistics of this race are so well organized that it's impossible not to enjoy the experience. The 6K and 7K markers may have been slightly off, but apart from that, the course was well marked. There were four aid stations along the course, spaced fairly evenly. The organizers also provide bag check facilities, and for runners needing to get back to the start area, a free shuttle bus. Not one of those old school buses that make you feel like you're being spanked whenever you go over a bump in the road, but a nice comfy city bus.
5. There's a great finish line vibe. This year I loved the finish line announcer. He was announcing and encouraging runners as they sprinted down the final stretch, and he managed to make everyone feel like a champion. The atmosphere was one of support and celebration. I felt a tremendous sense of collective goodwill as I wandered around the finish line area picking up my bag and getting my post-race banana.
6. I appreciate a good coincidence as much as the next person, but how could you not love a race where you can take a picture of last year's bib and this year's bib that looks like this? Who knows – maybe if I run this race often enough, I'll have a nice little collection of Lucky Number 7's.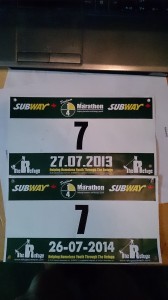 This is an original post by Kirsten Doyle. Finish line shot is credited to the organizers of DQM. Shots of the bibs and the race kit box label are credited to the author.