When I found out that a race was happening on an airport runway, there was no way I was going to miss it. It would be flat, it would be fun, and it would be super-cool. Hopefully, it would also be fast: I haven't had a personal best for a while, and this seemed like a good opportunity to try for one. I asked my friend Phaedra, who won the women's race last year, what I should expect from the run.
"There will be wind," she said ominously.
Well, all right. So I had a good chance of running in the one weather condition that I actually hate, but never mind. A bad run on a runway would still be way cooler than most other runs. It was certainly cold and windy when I arrived at the airport, but there was plenty of shelter for everyone in the hangar that was used for the occasion. Some brave souls wandered outside and stood shivering as they drank their coffee. I was content to stay on the inside and look out.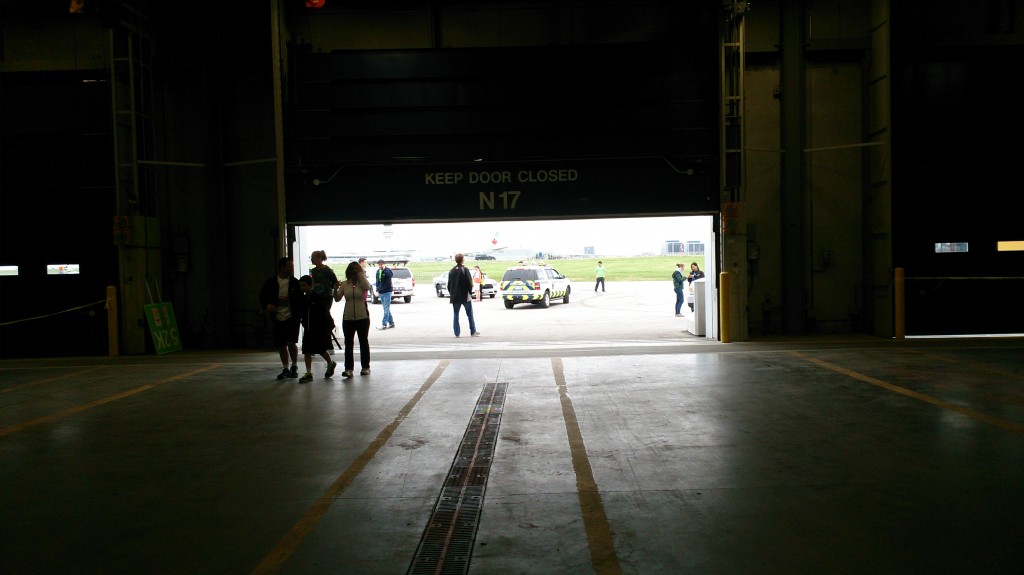 I did go out briefly, to take pictures of the firetrucks. I knew that if my eight-year-old son found out that there had been firetrucks that I hadn't taken pictures of, I wouldn't be allowed into the house ever again.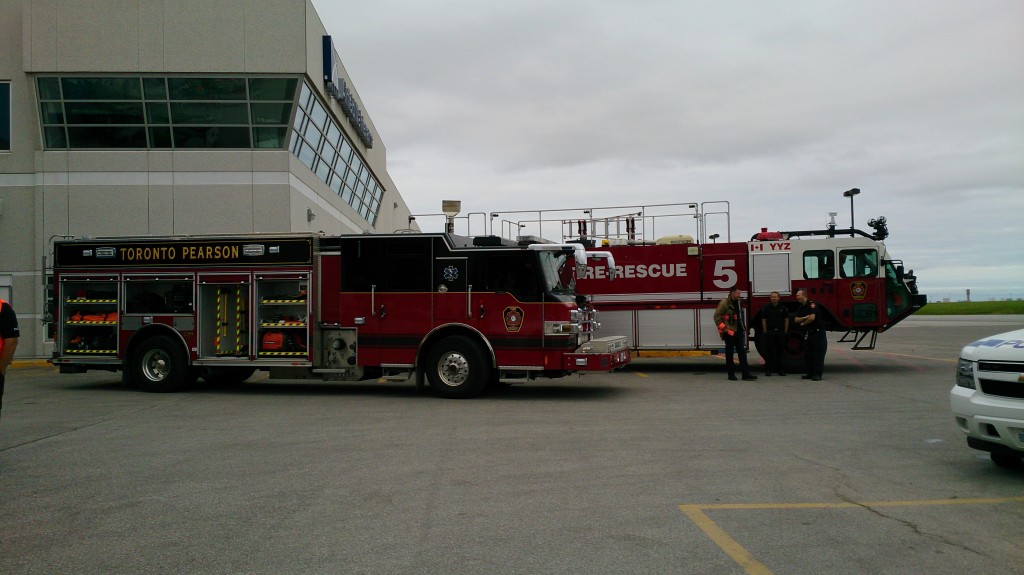 Back inside the hangar, I wandered around looking at the tables and displays set up by the sponsors. I was impressed by how this event catered for families. There were games and activities for kids, and the event itself included a 2K and a 5K, both of which welcomed children and babies in strollers. Then there were the people dressed up as planes, who proved to be very popular among kids and adults.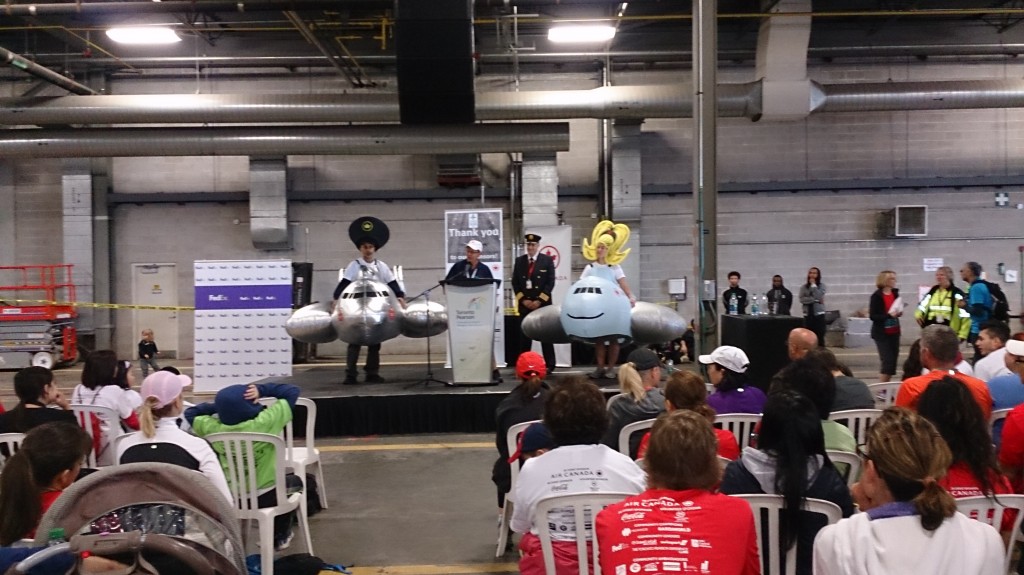 After the pre-race talks, runners were led out to the runway. An Air Canada plane was parked near the start/finish line. Someone near me wondered out loud if we were going to race the plane.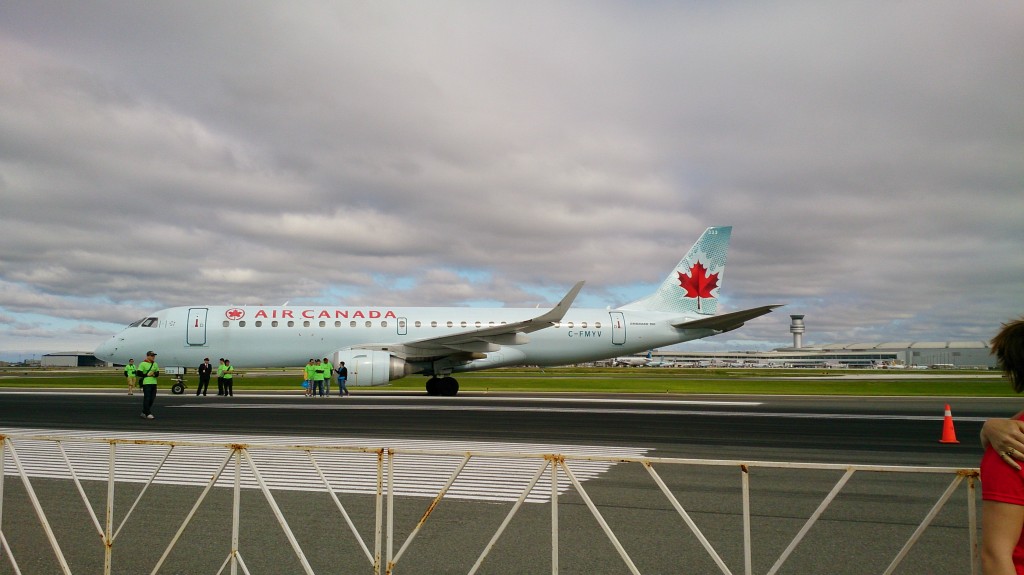 By the time the race started, it had warmed up to a pleasant temperature and the wind had lessened. I was able to establish a good pace from the start, and I maintained it throughout. As expected, the course was absolutely level, which made it really easy on the legs. The surface was as perfect as a surface can possibly be – kudos go to whoever keeps the runways in such pristine condition.
As I ran, there were planes taking off and landing on a runway parallel to the race. I imagined the passengers looking out of the windows and seeing hundreds of runners right beside them. I wondered what they must have been thinking.
I probably started a little too fast, because I did start to tire near the end. Still, I managed a time of 29:25, missing my 5K personal best by just six seconds. I felt a little queasy the way I often do after going all-out for a 5K, but the feeling soon passed, and I was able to enjoy the awesome finish line atmosphere.
This race is definitely one that I will want to repeat. If my younger son keeps up his interest in running, he will probably join me next year. He would love an opportunity to get one of the cool finisher's medals.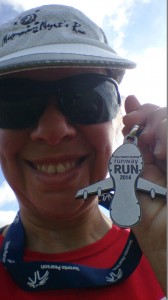 This is an original post by Kirsten Doyle. Photo credit for all images to the author.