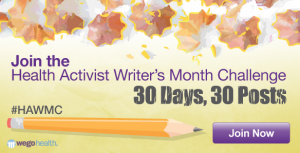 For today's prompt in the Health Activist Writer's Month Challenge, I can either promote some of my favourite health activists, or post links to some of my favourite posts written by fellow bloggers in this challenge. I have chosen to do the latter, even though it is so difficult to pick out just a few posts from among the multitude that have resonated with me. Through the other participants in the challenge, I have learned so much about health conditions that do not personally affect me directly.
Here, then, are five posts in the Health Activist Writer's Month Challenge that have had a particular impact on me.
1) http://www.pixiecd.com/2013/04/group-therapy-for-ass-hat.html How could anyone not be drawn to a post written by someone who claims to be a former ass-hat? Here is someone who has gone through inordinate amounts of pain, and is facing it all head-on with a delightful combination of frankness and humour.
2) http://theperfectd.com/2013/04/02/hawmc-day-2-introductions/ This post, written by someone with Type 1 Diabetes as well as a hefty dose of courage, is truly educational. Most of us know, on an intellectual level, what diabetes is. But reading this post gives you a glimpse into what the life of a Type 1 Diabetic is really like.
3) http://positivityinpain.wordpress.com/2013/04/06/my-goals-for-fibro-fighterz-hawmc-day-5/ This blogger lives with Fibromyalgia, and has some pretty lofty and highly worthwhile goals. This post describes what some of those goals are. Hopefully they can become a reality.
4) http://www.conquerinspiteof.com/2013/04/thank-you-for-your-unsolicited-advice.html We all hear ridiculous myths about the things that affect us. In this post, someone with Lupus weighs in on Lupus-related myths – some of which I actually believed myself until reading this.
5) http://thatmword.com/post/47544602681/day-9-how-to-care-for-a-migraineur-101 When someone close to you is in the throes of a debilitating migraine, what do you do? Do you know how to take care of them? This post gives some great pointers.
There is another favourite, but I am going to share that with you tomorrow in the form of a guest post written by the blogger concerned. I'll just give you one hint: it made me cry.