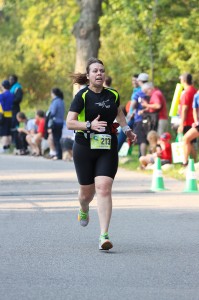 Most runners have some specific distances that they seem to excel at. There's no formula for it, really, it's just a matter of personal style and preference. Some runners are sprinters and do very well in the 5K runs, where pacing strategies aren't really used. Others do better in longer distances, like 10K and 10 mile races. Then there are those who are slightly insane and do half and full marathons.
We will not discuss the freaks of nature who do ultramarathons.
I myself have always gone for the mid-to longish distance races, varying between 10K and 21.1K (half-marathon). The only reason I have not attempted a full marathon is because I cannot commit the time to the training. But someday…
The point is that 10K is generally the shortest distance I run. The poor 5K distance has been shamefully neglected.
Last weekend I put that right. I decided, early on this season, to put at least one 5K race into my schedule. Although it seems like a humble distance for a half-marathoner, I realized that it could be a really good test of my ability to just run like hell for half an hour or so.
I went into the race with some specific goals. First, I had to beat thirty minutes. Second, I would only take one walking break and that would be going through the aid station. Finally, I would finish in the top 50%. This last one was going to difficult, because I really had no idea how the other 390 runners in this race were going to do. I have been a little frustrated of late, though. When I first made my big comeback to running just over three years ago, I was finishing races in the bottom third. Since then, my performance has steadily improved, but that top 50% has been eluding me. As great as my 15K race ten days or so ago was, I still missed the average finishing time by just a couple of minutes.
I knew that I would have to work hard to achieve my goals, primarily because I had been out with my husband the previous night and consumed almost a full bottle of wine. Yes, I confess that I lined up at the start with a hangover the size of a mountain. I felt dehydrated and a little ill, but if anything, this motivated me to run as fast as I could, so I could get this over with.
I took my place in the starting corral at the last minute, so I was further back than I really wanted to be. And so when the race started, I got caught in the crowd, and I wasn't able to go out as fast as I wanted to.
After a bit of weaving and dodging I was able to break away a little. The first two kilometres passed in a bit of a blur, and when I got to the turnaround point, I realized that I was actually enjoying myself.
Nothing cures a hangover like an elevated heart rate and a ton of sweat. It was great.
I was easily maintaining my target pace, so I slowed down to walk through the aid station.
Actually, that's a lie. The aid station was manned by delicious-looking firefighters. And when you're trying to impress firefighters, you don't walk during a race. Not, at least, where they can see you. Your inner show-off emerges, and you pick up the pace. And that is why I was moving at a sprint when I grabbed a cup of water from the most delectable of the young gents. I ran on, not caring that I was sloshing my water all over the place. When I rounded the bend, then I slowed to a walk.
I drank my water, allowed my heart rate to subside for twenty seconds or so, and then I was off, with just two kilometres to go.
I started to get tired, but I was still keeping up with my goal pace. I slowed down marginally, just for the sake of keeping enough gas in the tank for a strong finish.
When I entered the final kilometre, my legs wanted to fall off. But I kept moving. At my current pace, I would nail that last kilometre in five and a half minutes. I kept reminding myself of what my friend and coach Phaedra told me as she ran me to my half-marathon finish along this exact path three months ago: "You can do anything for five minutes."
When I saw the finish line ahead of me, my legs kicked into overdrive. I crossed the line with the clock reading 30:02 and a chip time of 29:18.
So. Finish the race in under half an hour? Check. Although it would have been nice to actually see the clock reading under 30:00. Next time I will pay more attention to my start line position.
Only walk through the aid station? Check. Kind of.
Finish in the top 50%? Check! I came in 86th out of 391 runners, and out of 44 in my age group, I was 15th. I was well ahead of the average finishing time of 35:10.
On Saturday afternoon, feeling content and triumphant, I took a nap on my back deck. Because dammit, I deserved it!
(Photo credit: Ryder Photography)