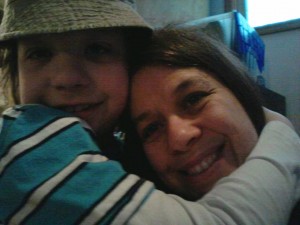 My son George has a thing about hair – specifically, my hair or, if I'm not available, hair that is similar to mine. For a while, whenever we went anywhere, we would have to deal with the problem of him going up to random strangers with long dark hair, and stroking them on the head. We saw the need to nip this in the bud as quickly as possible: it was cute when he was seven or eight, if it was still happening by the time he got to twelve or thirteen, it would be downright creepy.
We have more or less gotten that impulse under control. When we are out, George leaves strangers and their hair alone. But it is still a big problem at home. He obsessively touches my hair, kisses it, and nuzzles his face into it so he can smell it. And it's – you know – quite a heavy-duty invasion of my personal space.
It's a tricky problem to solve. My kids love physical contact, and my husband and I are happy to oblige them. We are generous with hugs and snuggles, we chase the kids and play wrestling games with them, and when the weather is nice we go into the back yard and play games like tag. And lately, because George seems to be incapable of touching me without touching my hair, I have caught myself avoiding physical contact with him, either by retreating to places where he cannot get me, or by gently pushing him away.
For a mom like me who's always been into the hugs and cuddles, it's a terrible feeling, not wanting my child to touch me. I feel guilty and sad. I want to hug my boy, but I don't want the accompanying hair-stroking and sniffing that goes with it. Today I'm feeling particularly rough, because George was awake all night, and he was at my hair. All night long. And today, every nerve ending in my body feels on edge. I feel like I will scream if George or anyone else touches me. And I feel like a truly awful mother for declining hugs and insisting on doing things by myself.
I recognise that my hair fulfills some sensory need in George – some complex need that I don't understand and that he, with his autism, finds it impossible to explain. I sometimes snap at him for being all over my hair all the time, and then I feel bad, because it's not his fault. It's not something he can help, and until we can figure out some other way for him to satisfy that sensory need, it's not really something I can help either.
The obvious solution – one that has been suggested to me several times – would be for me to simply cut my hair. But I am loath to do that, for a number of reasons. Long hair is easy to maintain. Short hair requires styling, and I don't have the money or the inclination to keep going to the hairdresser in order to look respectable. In addition, when it's time for me to go running, it's really easy for me to tie it all back in a ponytail. But all of this is beside the point: I just don't know that cutting my hair would solve the problem.
I'm sure – or I hope – that this is one of those problems that we will solve, that we will look back on as a memory at some point in the future. For now, I seem to be stuck with my permanently aching scalp and what I hope is a reversible aversion to physical contact. I am hopeful that sooner rather than later, I will be able to fully enjoy hugging my beautiful boy again.
This is an original post by Kirsten Doyle. Photo credit to the author.