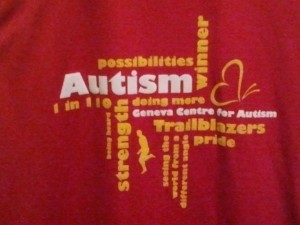 Do you ever look back on a particular day in your life and wish things had gone differently? If only you'd said this thing, or if only you'd done that thing. We all know, of course, that those "if only" scenarios don't do us one whit of good in terms of the outcome, but that doesn't mean we're not allowed to think of them. Sometimes we can use those lessons in the future, and sometimes we can help other people going through similar things.
One of the most pivotal days in the life of an autism parent is the day of their child's diagnosis. When I look back on that day, I remember shock, tears, and a sense that a giant constrictor had wrapped itself around me and was squeezing me so tightly around the chest that I could barely breathe.
Realistically, there's no way to completely cushion a blow like this. But maybe – just maybe – there are some things that would make it easier to bear. Here are the things I wish I had known when I got the diagnosis.
1. The doctor does not have a crystal ball. Any dire predictions that he makes for your child's future are not set in concrete.
2. If you Google too much too soon, you can drown under the weight of the information overload.
3. Your child is first and foremost a child. Don't let your child become the diagnosis, the whole diagnosis and nothing but the diagnosis.
4. You may feel as if your reality has shattered, but all that's happened is that your reality has changed. You have to give yourself the space and time to get used to your new view.
5. Now more than ever, you need to nurture your relationship with your partner.
6. Apply for all the funding and services you can, even if you think odds are stacked against you. There's always the chance that something will stick.
7. Don't be afraid to cry. Even if it's in front of the kids. It's OK for them to know that you're human.
8. Know that you can do the whole special needs parenting thing. You may not feel that way in the beginning, but you will. You don't have to know all the answers – because let's face it, none of us ever does – just know that you will be the parent your child needs you to be.