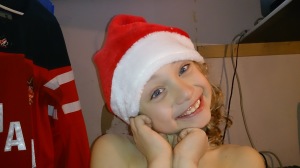 To my darling son James,
Nine years ago today, you finally decided to leave the comfort of the womb and join us in the world. You were a week overdue: either you were very comfortable where you were, or you figured that we would need an extra week of quiet before the adventure began.
The day of your birth was incredible, filled with little moments that I will never forget – like the little kid in the hospital coffee shop who was convinced that I was Santa Claus. You can't blame him: it was Christmas morning and I had a massive belly and a Santa hat. The best moment of all, though, was when you came flying into the world like a cannonball, screaming in outrage. There was never any doubt that you had a very healthy pair of lungs and an abundance of energy.
Since that day, you have filled our lives with a very special kind of magic. You are never afraid to explore and discover not only what is in the world, but what is within yourself. Your massive imagination takes all of us on weird and wonderful journeys, and the front of my fridge is covered with your fabulous artwork. Your creativity combined with your love of animals has given us a zoo of animals that have been lovingly crafted by you. As I write this, you are transforming ordinary cardboard into a set of Wild Kratts creature power disks.
You have the biggest heart of anyone I know. You are one of life's true givers who experiences absolute joy through the act of making other people happy. Every single day, I am on the receiving end of your spontaneous hugs and little handmade gifts and notes. I see the kindnesses you extend to your friends without even having to think about it. Being a caring person is so much a part of who you are that your school gave you an award for empathy.
The love that you have for your brother is genuine and complete. You do not take anything for yourself without first making sure George has something too. If George's autism is making things difficult for him, you calmly and patiently do whatever you can to soothe and comfort him. You play with him, you share with him, you protect him. You take care of him so beautifully, and yet you think of him as your hero.
I know that sometimes I cannot keep up with your boundless energy and your constant chatter. But I absolutely love that those things are a part of your character, and I would not change a single thing about you.
I love you, and it is a joy and an honour to be your mom.
Happy birthday.
Lots of love,
Mommy