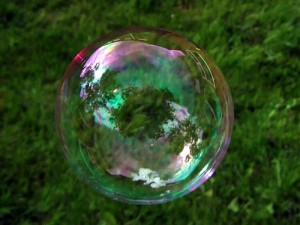 Yesterday's post was all about the poor hand that life has been dealing me lately. I feel as if the Universe read my post and decided to make some recompense, because today has been absolutely amazing.
It started with a run early this morning – a run that, funnily enough, I was a hair's breath away from bailing on. I didn't sleep well last night, and I woke up feeling – to borrow a wonderful phrase from a book I read – rough as a badger's arse. I certainly didn't feel up to running for 18km. But I knew that if I didn't go, I would regret it. I would go through the entire day feeling a sense of incompleteness that would only be satisfied by running.
So I dragged my badger's arse out of bed, blearily had some coffee and peanut butter toast, and hit the road. As soon as I started running, I felt better – helped no doubt by the perfect autumn weather. I decided to just enjoy the run without caring about my pace, and perhaps because of that, I clocked one of my best-ever times for a run of that distance – 1:59:43 for 18.23km. My legs were killing me, but I felt absolutely fantastic. I'd lost quite a bit of confidence in my running in recent weeks, and this run was just what I needed to restore some of that.
Later on, when I was showered and fed, I lay on my bed with my husband watching TV. Usually this doesn't last for very long: I tend to be all antsy and wanting to get up and get things done, but today I was content to just relax. My husband and I sat there for ages, drinking cups of coffee and chatting about the contestants on The Voice, which we both enjoy watching. Neither of us was in any rush to go anywhere or do anything. We were content to just be with each other. With all the stress that's been going on lately, there has been some inevitable discord, but today our frames of mind were in perfect harmony.
Eventually, we got up because the kids wanted us to put up their bouncy castle in the backyard. This involved first finding the bouncy castle, which hadn't been used since March. After some rooting around in the garage and the garden shed, we located it. Miraculously, we found the motor in the same box, and then we were in business. For the next hour or so, the kids happily bounced around, and I basked in the sound of their laughter.
It's the best sound in the entire world. How could I not be happy?
Since this morning, there has been a series of magical moments strung together to make a perfect day. It is impossible to dwell on the negative on days like this. Instead, I find it very easy to feel truly grateful for all of the richness in my life.
This is an original post by Kirsten Doyle. Photo credit: Ali Smiles 🙂. This picture has a creative commons attribution license.