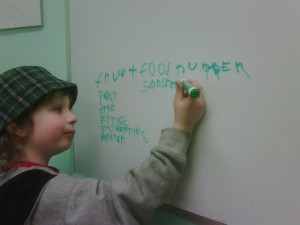 A week from now, the kids will be going back to school, and I'm not sure whether to jump for joy or quiver with worry.
On the one hand, the kids being back in school will mean more time for me. Being home with them for the summer was a circumstance that I found myself in due to my unexpected unemployment, and it's been quite a revelation. I have enjoyed it, but I do have new respect for stay-at-home moms – especially those who homeschool their kids. I am looking forward to being able to spend time by myself to focus on my job search efforts.
On the other hand, back-to-school time is always a bit of an ordeal for my older son George. After two months at home, his school routine has gone completely out the window. He has to relearn the whole process of getting up at a certain time, getting onto a school bus and being expected to spend each day in the classroom. For most kids – like my younger son – this represents a resumption of an already known routine. But for kids with autism, it's like starting a whole new routine all over again.
Autism and new routines go together about as well as tuna and chocolate syrup. In addition to the daytime disruptions, George goes through insomnia while he's adjusting to the transition. Which means we're in for about six weeks of not sleeping.
With George going into 5th grade, this is old hat to us. We do whatever preparation we can. We use social stories, drive through the school parking lot from time to time throughout the month of August, and start easing into school-like morning routines during the last two weeks of the holidays. And then, when school resumes, we just brace ourselves and deal with it as best we can.
We go through the transition with the attitude that "this too shall pass". Because it always does. We won't necessarily see things get easier from one day to the next, but one morning George will wake up and be completely OK with going to school. He will get dressed and stay in his clothes instead of changing back into his pyjamas at the last minute. He will calmly get onto the bus and fasten his own seatbelt. When he comes home in the afternoon, he will be happy. That night, he will sleep. For the whole night.
Once George gets over the bump of going back to school each year, he does quite well. His brain is like a sponge, and although progress on his speech and social skills is oh-so-slow, it is definitely there.
I am nervous about the start of the school year, but I am excited to see what the year will bring for George.
This is an original post by Kirsten Doyle. Photo credit to the author.