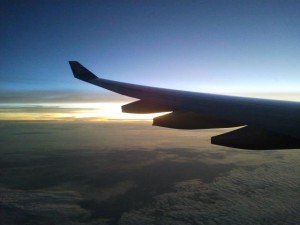 When I became first became a mother, I had the same experience that almost all first-time moms go through: all sense of self went completely out of the window. I was no longer a person in my own right, I was Somebody's Mom, and I had to devote every waking hour – and pretty much all of my sleeping hours – to the care and well-being of that Somebody.
Two years later, I was Mom to not just one, but two Somebodies. A year after that, my firstborn was diagnosed with autism, and I joined the exclusive club of special needs parents.
As I became more and more immersed in my role as a parent, my world started to get smaller and smaller. I can honestly say that if it hadn't been for my job and the friends I made on the Internet, I would have gone completely around the bend.
My world started to expand a little when I started running. That at least gave me some time to myself, even though a nagging sense of guilt always went running with me. For a short period of time, I even got some running friends, but that didn't work out. It wasn't because of them – they were absolutely lovely people – but I was never able to go running at the same time as them. So that was that.
A couple of years ago, someone – possibly a co-worker – asked me what my idea of ultimate luxury was. With no hesitation, I replied, "24 hours by myself in a hotel room with wine, a good book, a hot tub and a TV." I had this dream of watching whatever shows I wanted, spending time in the hot tub with wine and a book, and then drifting into a deep contented sleep. I fantasized about sleeping through the night and staying in bed for as long as I wanted to in the morning.
I felt terrible about actually wanting this. I mean, my wildest dreams involved being away  from my family. What kind of mother was I? Of course, the idea of going away without my kids was out of the question. I did go on two solo trips to South Africa, but since they were both for deaths in the family, they didn't really count as "me time".
About five months ago, something really strange happened. I left my husband and kids at home and went away for a weekend. There was no emergency. No-one had died. I didn't have to work. I went away for the bizarre reason that I wanted to.
For the whole weekend, I waited for the guilt to kick in. I expected a sudden onslaught of angst. I resigned myself to the fact that sooner or later, I was going to feel like the worst mother in the world for abandoning my family.
Except that this didn't happen.
To put it bluntly, my weekend was bloody fabulous. It involved nice dinners, parties, and wine-tasting in Niagara. I didn't catch up on my sleep deficit, because I was too busy meeting new friends and partying harder than I have in at least 20 years. I checked in with the home base a couple of times, and knowing that everyone was still alive and the house was still standing, I didn't worry about a thing.
I  am not too sure exactly why I felt such freedom to just enjoy myself, but I suspect that I had reached a point of severe burnout. At the risk of sounding melodramatic, taking some time out for myself became a matter of survival. For several years, I had been burning the candle at both ends, working long hours at work, taking care of the family, helping my husband with his business, making sure the bills were paid. I was getting up at five in the morning because that was the only time I could go running. Frequently, I had to choose between sleep and exercise.
And I got to a point of critical mass, where I just couldn't take any more without a break.
Here's the incredible thing: the world kept on turning. When I got home at the end of the weekend, the kids were fed and happy and reasonably clean. The house was only marginally untidier than usual. Most importantly, everybody was happy. In retrospect, there is every possibility that my family had needed a break from me as much as I had needed a break from them. After all, when life starts to overwhelm me, I can get a little intense and difficult to live with.
Being away for that weekend gave me some much-needed perspective. I realized that yes, my husband and kids do need me and love me, but they can also survive without me from time to time. I came back with renewed energy, and frankly, my husband and kids benefited from having time together without me. This experience was good for all of us.
My next break is coming up in about a month, when I head out of town to go on a retreat for special needs moms. I cannot wait to go. And I cannot wait to come back, better and stronger for my family.
(Photo credit: Kirsten Doyle)