It is snowing outside, but it is almost too warm in the speech therapist's office. None of us really wants to be there. Not me, not George, not even, I suspect, the speech therapist. George – three years old and non-verbal yet defiant – has refused to remove his coat even though he must be getting toasted under all of those layers.
He sits down unwillingly, and I position myself between him and the door to prevent any escape attempts. I settle in to watch what will undoubtedly be yet another fruitless session. We've been coming here for almost a month now, and George has not responded to a single thing. His speech is no further along than it was to begin with, and although I like the therapist very much, a part of me is wondering what the point of all of this is.
As usual, George is making niggling whiny noises, not-quite-crying noises, little sniffles and moans that make it abundantly clear that he does not want to be here. He doesn't care for any of the toys that the therapist is producing out of nowhere, like a magician. He doesn't care for toys, period, but the therapist patiently insists that it's just a question of trying until we find the one thing that will work.
As George starts to noisily rock his chair back and forth, I sigh inwardly, but following the therapist's early instructions, I do not say anything. I am tired. I am sad. I am frustrated. I suddenly find myself having to blink back tears that threaten to spill down my cheeks.
And then… a miracle.
The speech therapist puts Mr. Potato Head down in front of George.
It is love at first sight. Instantly, the rocking stops and the whiny noises are replaced with a stunned silence. I can literally see my child's eyes filling with wonder. It's like witnessing a rain shower on a parched desert.
Instinctively, I hold my breath and stay completely still. I just know that something special is happening, and I don't want to ruin the moment.
George reaches out shyly and touches Mr. Potato Head. Then his entire face – his entire soul – erupts in the biggest, most beautiful smile I've ever seen.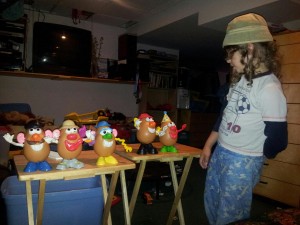 From that moment, George started making progress at his speech therapy sessions. Thanks to Mr. Potato Head, his vocabulary started to explode. Not only that – he finally had a toy he was interested in playing with. Not staring at, not lining up according to colour, but actually playing with. When friends and family members asked what they should get him for birthdays, we had something we could tell them.
Six years have passed since that day in the speech therapist's office, but George's devotion to Mr. Potato Head has never wavered. He collection takes up two large Rubbermaid tubs – and those are just the Potato Heads that are not adorning his desk, his bed, and other flat surfaces at various points throughout the house. He has Mr. Potato Heads, Mrs. Potato Heads, Baby Potato Heads, Darth Tater, Indiana Jones Taters of the Lost Ark. There's a hockey player Potato Head, a pirate Potato Head, a doctor, a fireman and a sheriff. George has an entire Potato Head community that keeps on growing.
Earlier this week, Mr. Potato Head celebrated his 61st birthday. This is one of the most iconic toys of the 20th Century, right up there with Barbie and Lego.
But to George – and to his grateful mama – Mr. Potato Head will always be more than just a toy.
(Photo credit: Kirsten Doyle)