When my firstborn son was first diagnosed with autism five years ago, the force of it all was like a kick in the head. I honestly did not know how I was going to live the rest of my life as an autism parent, especially with the doom-and-gloom picture that was presented to us by the diagnosing doctor.
But life has an uncanny way of continuing, no matter what. We adapt and survive, and sometimes we even manage to see the positives in a situation that is, by most people's standards, less than ideal.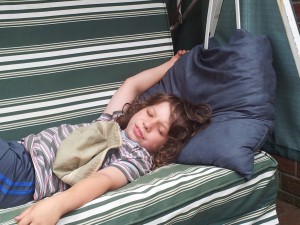 The Good
* Every moment of accomplishment is a cause for celebration. I have a true appreciation for what most people think are "the little things".
* My son can problem-solve rings around the rest of us. His thinking is at times very effective while also being wayyyyy out of the box. It offers a whole new perspective on life.
* My two boys have a healthy amount of sibling rivalry going on, but they also have a great deal of love for each other. My younger son's empathy and kindness toward his brother that has to be seen to be believed. It makes me well up with tears every time.
* Let's face it, many kids with autism are computer geeks. And it's very handy having a built-in computer geek.
* I believe that having a child with autism makes me a better and more patient parent.
* Kids with autism can have funny, quirky senses of humour that take you where you least expect to go.
* Hugs from kids with autism can be the absolute best.
The Bad
* When my child is trying with all his might to express something and doesn't know how to, the look of frustration and desperation in his eyes is heartbreaking.
* Sometimes my younger son tells me that he wishes his brother didn't have autism. There are no words to describe how that feels.
* Autism is unbelievably, phenomenally exhausting, and that's just for me. I cannot imagine what it must sometimes be like for my son.
* There is a lot of frustration involved in advocating for my child in the school system. The vast majority of teachers are genuinely good and caring people who mean well, but a lot of them just don't get it.
* I worry about my son's future every single day. Will he ever be able to brush his teeth and take a shower independently? Will he ever learn to look both ways before crossing the street? Will he be bullied in high school? Will he be given the same opportunities as other kids? Will he be OK when, someday, I am no longer here?
The Ugly
* There are holes in the drywall from all the headbanging incidents. They are not pretty.
* We are frequently the targets of people who stare and say rude things. They are not pretty either.
* As much as I think that autism has made me a better parent, I am only human, and sometimes I lose it. Big-time. I slam things and scream like a banshee.
* Sometimes, I have to battle my son's autism and my depression at the same time, and it's such a battle. I teeter on the edge of these big black pits of despair, and it is absolutely terrifying.
(Photo credit: Kirsten Doyle)