I am participating in the 2012 Wordcount Blogathon, which means one post every day for the month of May.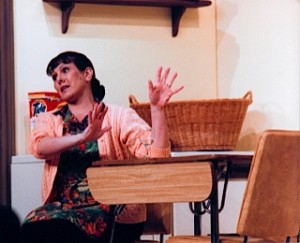 I sit in the darkened theatre, holding my breath with anticipation. I have been waiting for this night for weeks. My husband, who has seen this performance before, has promised me that it will be the theatrical experience of a lifetime. We are not in one of the big-name theatres in London or New York. We are not even in Toronto's theatre district thirty minutes' drive from where we live. We are at the Herongate Barn Theatre in the Pickering countryside, and right here, in this gem of comedy and culture, I am going to see a performance like none other. The audience's collective heartbeat pauses, the curtain is raised… and I am instantly transported into another world.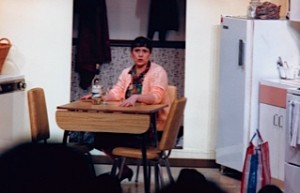 The performance of Shirley Valentine that I saw that night defied imagination. When Margaret St. John-Francies took the stage in the role of a middle-aged housewife disgruntled with life, I did not feel as if I was sitting in a chair in a theatre. I felt as if I was sitting at Shirley Valentine's kitchen table while she cooked chips and eggs and wondered aloud what had happened to her life.
It was so real that I wanted to cry. My heart twisted for this woman who felt trapped in an unsatisfying life, and I almost got up to give her a hug before reminding myself that this was just a play.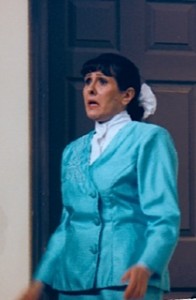 When the action of the play shifted from the Liverpool kitchen to a beach on a Greek island, I went right along to Greece as well. I could feel the sun on my back and the sand between my toes as the unhappy housewife was transformed into a fulfilled woman with romance in her life and hope for the future.
I wanted to stay on that beach, gossiping about the lover, asking Shirley what she was going to do next. I wanted to tell her not to return to her old life,because she so clearly deserved more. I wanted to be her friend, her confidante.
Instead, the play ended, and I went to the bar with my husband. A few minutes later, Margaret walked in – no longer in her role as Shirley Valentine, but as herself – and that was a different kind of magic.
Margaret graced many theatrical productions with her immense talent, usually alongside her husband Paul. The pair of them were perfectly matched not only on the stage, but in life. We shared many laughs with them in the bar after the shows we saw them perform in.
Margaret could fill a room with her presence. She was larger than life but down to earth. She touched everyone she met with her own special brand of magic.
On April 22nd, surrounded by the love of her family, Margaret passed away. To realize the impact of her death, you only had to look at the number of people at her memorial, which was held at the theatre. People were parking in the driveway because all of the spaces were taken, and extra chairs had to be brought into the room.
The Queen of the Stage has taken her final bow, but the memory of Shirley Valentine will forever remain.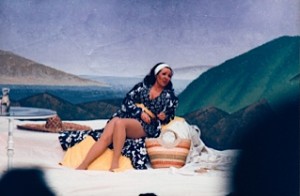 "Don't cry because it's over. Smile because it happened."     ~ Dr. Seuss ~
(All pictures are reproduced with the kind permission of Paul Francies)