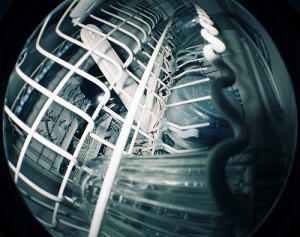 It's been more than a few days since I last posted here. I could give you all kinds of reasons for this, like lack of sleep, lack of energy and lack of time. Ultimately, the reason for my mini-hiatus can be traced back to one thing: the silent-E machine. Known to most people as the dishwasher.
My son George is the one who started referring to our dishwasher as the silent-E machine. He is a big fan of the Leapfrog movies. If you have young kids and you don't know about Leapfrog, Google it. The movies are fun and educational, and entirely appropriate for youngsters learning how to read or count. Anyway, one of the movies features the Leapfrog characters in the Letter Factory learning about how silent E's can change the way a word sounds. The silent E's are manufactured by a machine called – you guessed it – a silent-E machine.
After George watched this movie several dozen times, he decided that he wanted a silent-E machine of his own. He grabbed one of his fridge magnet E's and placed it on the dishwasher, and hey presto! We had a silent-E machine.
George is very particular about routine, and part of the essential routine is that the silent-E machine be turned on right around bedtime. Usually, he will quite happily go to bed and drift off to sleep with the silent-E machine running in the background. And this is fine. If he wanders out of bed from time to time to check on the progress of the cycle, I'm OK with that. He likes to make sure that all is well in the world as he knows it.
About a week ago, the silent-E machine started to act up. I started running it only at times when I could keep a constant watch on it. Which meant running it outside of George's regular schedule. Most autism parents will bear witness to the fact that this is a recipe for disaster. The entire household applecart was severely disrupted, and all of us started getting a lot less sleep.
Then, on Mother's Day, we reached a point of not being able to use the silent-E machine at all. We had to start lugging dishes up and down the stairs so we could borrow my mother-in-law's dishwasher, and this meant that her dishwasher was being run at the wrong times.
Oy.
It got ugly. Now George was staying awake more or less through the night, crying about his beloved silent-E machine, and running up and down the stairs at odd times of the night to inspect my mother-in-law's dishwasher.
I am hoping that it will all be fixed tomorrow. The problem seems to be nothing more serious than a clogged pipe, and I have acquired some chemicals to pour down it.
Wish me luck, friends. It's been a rough ride.
What happens when normal routines are disrupted in your house? Is there chaos or does everyone go with the flow?
(Photo credit: kevin dooley. This picture has a creative commons attribution license.)