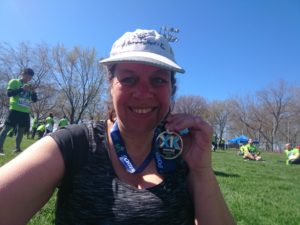 Wow. A race report. It's been forever since I wrote one of these things, mostly because it's been forever since I ran a race worth reporting on. Last year most of my race plans went up in flames when my right knee got an abrupt and agonising introduction to the cement floor in my garage. Then I went away to South Africa for a month, and when I came back, I had one setback after another.
A part of me was dreading the Sporting Life 10K. It was to be my first 10K race in about two years, and I've been struggling to get anything over 5K. When I registered for this, there was plenty of time. It was February, I was running regularly, everything looked good. But the time got whittled away by injuries, a bizarre sports bra issue that is another story for another day, a bout of strep throat and one cold after another.
But I was going to run this race, come hell or high water. I didn't care if I was miserable doing it, all I knew was that not doing it was not an option. But I sit here now with aching legs just over 24 hours since my wave took off from the start line, glowing in post-race euphoria.
Was I fast? Not by any stretch of the imagination. But I finished the race, and what's more, I loved every single step. Before I get into it, I want to give kudos to the organizers of the Sporting Life 10K. This is a big event that draws massive crowds, but everything ran smoothly, from the bag drop at the start right through to the loading of the post-race shuttle buses at the end.
The training
I have to give major props here to my coach, Phaedra at PK Performance Coaching. She provided me with a solid training plan that I followed as closely as possible in spite of the setbacks. And when things were not going well, she was always just an email away, ready to give me advice and words of encouragement. If you are a struggling athlete in search of accountability and structure, check out PK Performance Coaching. I promise, you won't regret it. The best part is that you don't even have to be local, because Phaedra does everything via the magic of the Internet.
The gear
The clothing I picked for the race was perfect for the weather. I was wearing calf-length running tights and a super-breathable T-shirt that was cool, comfortable and looked good (because race photos, people). My Midsummer Night's Run hat and my trusty New Balance shoes completed the ensemble. It was a chilly morning, and I had goosebumps after I took off my jacket so I could check my bag. But I knew that I would fare better than the runners who were wearing long-sleeved shirts beneath their race T-shirts.
I did have an unexpected glitch with my clothing, though. My recent focus on clean eating has not yielded any results on the scale, much to my frustration. But as it turns out, I have started losing inches, and my running tights kept sliding down from my waist. I had to keep hoiking them up until I figured out a way to tighten my fuel belt enough to keep them up. A pleasant, if inconvenient problem to have.
Nutrition
As mentioned above, my overall eating habits have undergone an overhaul in the last couple of weeks. I am a lot more conscious of what I am putting into my body, and in general my energy levels and ability to concentrate have improved. In spite of my spate of colds, I had hopes that my improved nutrition would help me on race day.
In years gone by, my go-to pre-race meal has consisted of a peanut butter sandwich. This time, I decided to do something different. About an hour before the start, I had a strawberry banana smoothie. It was a little sweeter than I generally prefer first thing in the morning, but it gave me an infusion of energy without making me feel weighed down.
Warm-up
I'm usually terrible at warming up before races. There's a part of me that thinks, why would I use up valuable energy when I have an entire 10K ahead of me? I should save it all for the race! I know that's ridiculous, of course. My son is a track athlete, and warmups are a big part of his competitions. I see the correlation time and time again: on days that he does his warmups properly, he performs better.
Phaedra's training schedule for the race included a ten-minute warmup. I had plenty of time and no excuses, so I did a slow warmup jog followed by some of the drills that my son does with his athletics club. A few strides and some gentle stretching, and I was done.
Did the warmup have an effect? Absolutely. I usually struggle for the first kilometre or so of a race, but I didn't have that problem this time. When I was released from my starting corral, I was warmed up and ready to settle into the run far more quickly than usual.
The race
I went into the Sporting Life 10K with the benefit of having run the course several times in the past. I knew where the easy bits were and where I might need to rein in my pace a little. As 10K races go, this one is an easy coast down Yonge Street. Most of it is either downhill or flat, with just a couple of gentle uphill slopes along the way.
I knew that most of the long downhill stretches were in the first half of the race. I also knew from prior experience that it might warm up quite a lot during the second half. And so I expected the first 5K to be easier and faster, and that was what I planned for. I wanted to capitalize on the early downhills and cooler temperatures while keeping enough gas in the tank for the finish. I stuck to my strategy, and resisted the temptation to go faster than my target pace even when I felt that I could.
It paid off. I finished about two minutes off my goal time, but I didn't crash and burn near the end the way I have so many times in the past.
Post-race
This race had the longest finish line chute in the history of finish line chutes. When you cross the finish line, you walk for about ten minutes before you get your post-run water. Five minutes further, you get your medal. Finally, five minutes after that, you can grab your post-race food.
I can understand why it's set up this way: with 20,000 participants, this is one of the biggest racing events in the city. In retrospect, I think it was good that they kept us moving for so long after the finish. It was like an enforced cooldown.
What I take from this
My biggest gain here, apart from the accomplishment of finishing 10K, is a boost in confidence. This race was a good litmus test for me. I now know that I have it in me to accomplish the goals I have set for myself, and I have a fairly good idea of the work that's needed in order for me to get there. My next race – the Durham Quarter Marathon – has a couple of big hills on it. It will be tougher, but I know I can do it.