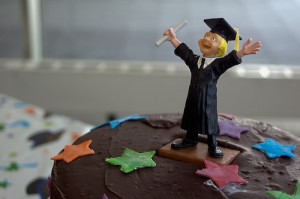 Today's post is in honour of a very special person on a very special day.
I have known Margie for about a decade now, and in that time both of our lives have undergone some dramatic changes. We have leaned on each other through difficult times, celebrated accomplishments and engagements, and we've both resorted to "tough love" when the other one has been caught using negative self-talk.
Margie and I have never met in person, but we have spoken on the phone, we have exchanged many texts and literally hundreds of emails, and I once watched Snakes On A Plane vicariously through Margie (we instant-messaged through the entire movie while she watched, so I followed the plot without having to actually see the film).
When Margie's life imploded a few years ago, I was there for her as best as I could be.
And when she started to rebuild her life – showing the most incredible strength, courage and determination – I was her enthusiastic and very willing cheerleader.
Today, Margie is going to the University of Arkansas at Little Rock to receive her Bachelor's degree. She has worked incredibly hard to achieve this, and she has done it while parenting her two boys, holding down a full-time job, and building a solid relationship with her husband-to-be. Not to mention that she done all of this while building herself up from the inside.
I am truly honoured to be able to count myself among Margie's friends, and I am so grateful that she has allowed me to be along for the ride from then to now.
Congratulations, Margie. May this amazing accomplishment open many doors for you.
(Photo credit: CarbonNYC. This picture has a creative commons attribution license.)