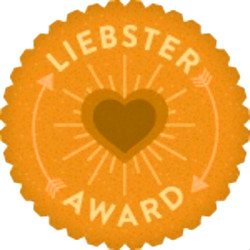 From time to time, I read blog posts in which the authors say that they write for themselves, and that they're not too concerned with how other people view their writing. I may have even said something along those lines myself at some stage. But who am I kidding? I do write primarily for the psychological benefit it brings to me, but of course I care about what other people think. As a writer, I like to have an audience, and I want that audience to like me. I want them to be able to identify in some way with what I'm saying, and I want them to come back.
And so when I get evidence that people like my blog, that makes me happy. Like when not one, but two fellow bloggers bestow a Liebster Award upon me (I'll explain in a bit). Or when a popular Canadian website aimed at women features me in a write-up about inspiring mom bloggers.
It is so cool – and such an honour – that in these busy times, there are people who not only read what I have to say, but take the time to tell others about my blog. I am immensely grateful to Sheelagh from SheKnows Canada for featuring me in her article, and I am grateful to Maya (Musings of a Marfan Mom) and Phaedra (Blisters and Black Toenails) for the Liebster Award.
The Liebster Award is a very neat thing that bloggers do for each other. When you receive the award, you acknowledge the person who gave it to you, and then pass it on to seven other bloggers that you love. It's a way for bloggers to give each other a shout-out.
My nominees – in no particular order – are as follows:
1. Sweet B's Blog: This blog is written by my friend Margie who is awesome. There's no other way of putting it. She did not post very often last year, but that's only because she was working towards a Bachelors degree while working full-time and raising two busy boys.
2. Blog By The Phoenix: Authored by another friend of mine who will remain unidentified to protect her privacy, there is a lot of bravery here. It's a fairly new blog, and health concerns have limited my friend's ability to post as often as she'd like, but it's well worth a read.
3. Kloppenmum: Karyn lives in New Zealand, enjoys coffee by day and wine by night, and is an awesome mom. She offers some keen insights into the minds of children, and what we as parents can do to bring out the best in our kids.
4. Beautiful Side of Hectic: I met Cheryl at Blissdom Canada last year, and we spent a bit of time swapping special needs parenting war stories. Cheryl is the mom of two girls, one of whom has Cerebral Palsy. Her blog offers us glimpses into her life and also includes some giveaways.
5. Nolie's Place: Nolie is a military wife (and I am SO grateful to her and her husband for what they do) and mom to two boys. She writes about whatever happens to be on her mind, and she ALSO hosts some awesome giveaways. I roomed with her at Blissdom Canada and had an absolutely delightful time.
6. Behindhersmile's Blog: Michelle is a former co-worker, former carpool partner and definitely-not-former friend. She proactively tries to educate people about healthy eating, to encourage us to set a good example for our kids.
7. Olordyimforty!! SarahJeanne has three things in common with me. She is an autism mom, she runs to raise funds for autism, AND one of her kids was born on Christmas Day. Besides, how can you not love a blog that has exclamation points in its name?
The next thing I'm supposed to do as part of receiving the Liebster Award is tell you eleven random things about myself.
1. I have a Bachelors degree in psychology, and I've just started post-graduate studies in writing.
2. One day when I was about four, I pulled out all my hair and ate it. No-one knows why.
3. I'm afraid of spiders, ladders and the Bloor Viaduct (when the subway goes over it you look down and see very little between you and the river below).
4. I cannot use a can opener (unless it's electric). My excuse is that I'm a left-handed person in a right-handed can-opener world.
5. Someday I want to take a trip up to the northernmost part of Canada to see the Northern Lights.
6. When I was working on a farm in Israel, I discovered that I am severely allergic to mangoes.
7. I started blogging because of my friend Tim, who recognized that I needed a place of my own to talk about the challenges of autism parenting. Tim, sadly, is no longer with us, but a piece of him will always be in this blog.
8. I was born in South Africa and have lived in several countries. I have been in Canada since August, 2000.
9. I was proposed to about five minutes after I became a Canadian citizen.
10. My first car was an ancient Renault that I named Clare De Lune. That car took me through my student days and well into my 20′s. I eventually sold it, and as far as I know it's still on the road.
11. I don't have much of a sweet tooth, but I'll always cave at the sight of cheesecake. Every. Single. Time.
There's one more thing I have to do for the Liebster Award. Check back tomorrow for a question-and-answer session!