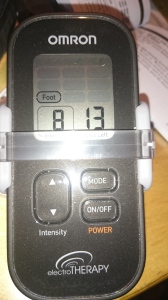 Electrotherapy TENS vs. old injury
Over twenty years ago, I sustained a serious injury to my left ankle, and it hasn't been quite right since. My ankle problems have been such a constant factor in my life that I have christened the offending joint "Ankle of Doom". It is because of Ankle of Doom that I have permanently abandoned my dream of running a full marathon. Half-marathon training is challenging enough: for at least a week after my long runs, Ankle of Doom puts me through so much pain that I want to weep.
When I was offered a review unit of an Electrotherapy TENS device from Omron, I thought I may as well give it a try. Between Ankle of Doom and the acute pain that has developed in my shoulders as a result of long hours working in front of a computer, I knew that I would be able to give this unit a thorough workout.
TENS stands for Transcutaneous Electrical Nerve Stimulation. It cannot cure the underlying cause of pain, but it provides temporary relief by preventing the pain message from reaching the brain. Many people who have used TENS therapy have found it to be effective and easy to use.
Compact and easy to use
When my Electrotherapy TENS unit from Omron arrived, I was pleasantly surprised by its size – or lack thereof. The unit is small enough to fit comfortably into my hand, and it is very lightweight. It comes with a belt clip that can be used to attach it to the waistband of almost any clothing, and it feels almost invisible when it's being worn in this way. This makes it truly portable – there is no need to stay rooted to one spot during your fifteen minute treatments.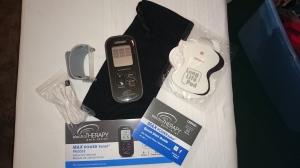 The unit is very easy to set up and operate. It runs on two standard AAA batteries which are kept firmly in place by the backing which is removed and reattached with the twist of a coin. It comes with a pair of standard pads complete with a holder, a thin cable with the electrodes (about the thickness and length of the ear buds you use with your iPod), the belt clip, easy-to-follow instructions and a nifty little pouch to store it all in.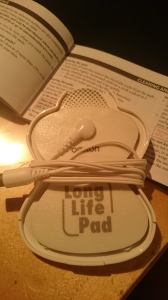 There are nine preset modes on the unit. Six allow you to target specific parts of the body (shoulder, lower back, arm, foot, leg, joint), while the other three (tap, knead and rub) are massage modes.
To operate the unit, you simply apply the pads to the part of your body that is hurting, select one of the nine modes, which are clearly labelled on the display, and select the intensity. The intensity can be adjusted at any time during the fifteen minute cycle, and when the time is up, the unit shuts off.
The results
After using the Electrotherapy TENS unit for a couple of weeks, the results are promising. With at least one fifteen-minute treatment per day, the pain in my ankle has been a lot more manageable. I have not had the week-long agony that usually follows long runs. I doubt if I'll be able to revive my plans to run a full marathon, but I do believe that training for my upcoming half-marathon will be a lot more bearable, and I think that my recovery from the race itself will go a lot more smoothly than usual.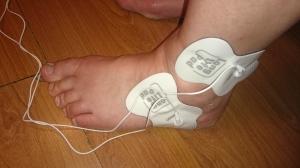 If anything, the unit is a little too effective. It blocks the pain signal so effectively that it is easy to forget that there is a problem, and you run the risk of not being duly cautious of using the affected part of your body. However, combined with rest and whatever other treatment your doctor might recommend, Electrotherapy TENS can make life with an injury a lot more bearable.
This is an original post by Kirsten Doyle. All photos credited to the author.
Disclaimer: A review unit of the Omron Electrotherapy TENS device was provided to me in exchange for an honest review. This post is a true reflection of my experiences to date with this product. The experiences of others may differ. This review is not intended to replace or supplement the advice given by a registered medical professional.