I am participating in the 2012 Wordcount Blogathon, which means one post every day for the month of May.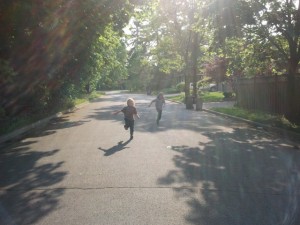 When my kids were little – well, littler than they are now – they went to a great daycare centre a few minutes' walk away from our house. When the weather was nice, the kids would be allowed to play outside at the end of the day while they were waiting for their parents to pick them up. When I got off the bus from work, I would walk directly to the centre, and as I approached, I would hear the sound of children laughing and playing in the outdoor play area behind the building.
There is no sound in the world that is more magical than the laughter of children. I used to treasure that part of every day – those moments in which the sounds of childhood joy floated through the air and reached my ears.
When my boys reached the age-limit of the daycare and had to leave, I knew that I would miss those precious sounds.
Now that both boys are always home by the time I get off the bus, my homecoming is quite different to what it was back then, but it is no less magical.
My husband and children, alerted to my impending arrival by a text or phone call from me, stand together at the front door, peering out of the frosted glass panels on either side. When I appear at the end of the road, my husband opens the door and releases them into our quiet street. They charge down the road towards me, running in that completely natural, unrestrained way that only children are capable of, and they launch themselves at me, giggling helplessly as I pretend to fall over backwards.
By this time, my husband is usually ambling down the road to meet me. We go for a walk around the block, all four of us holding hands. Then we turn and head back towards the house. When we're about half a block away, we line the kids up.
On your marks!
The kids look up at us with anticipation.
Get set!
George starts to giggle and looks all around him. James, who has acquired my love of running and actually takes this seriously, looks straight ahead as he braces himself for takeoff.
GO!
And they're off, racing each other to the house. In that moment, we are not looking at a child with autism and a child without autism. We are looking at two typical boys, being brothers.
And this is what life is all about. Love. Togetherness. Family.
(Photo credit: Kirsten Doyle)