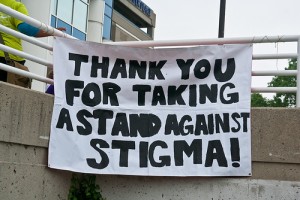 Everyone, it seems, has an opinion on what is or is not to blame for the Sandy Hook shooting.
I have seen arguments and statistics on both sides of the gun control debate. While I am not personally a fan of every man and his dog having a gun, I have to remind those pushing for gun control that this year we had two shooting sprees within a month of each other. In Toronto. Where there is gun control. On the other hand, countries with gun control do have fewer mass shootings than countries without it.
Then there's the religion argument. Apparently, "keeping God in the schools" would solve the problem. I don't mean to sound cynical – not much, anyway – but do proponents of this view really believe that saying the Lord's Prayer before class every day would have stopped the perpetrator from doing this? Let's also consider the fact that shootings of this nature rarely happen in secular countries where there is strong separation of church and state.
The shooter "may have" had autism and OCD. Really? Well, the shooter "may have" had hayfever. Does this mean we have to start perpetuating discrimination against people who have hayfever? Yes, the whole idea of autism being to blame is that ridiculous.
We need better access to mental health care. With that one, I think we're getting closer to the root – or at least one possible root – of the problem. There are some people who are just inherently evil, and nothing we do short of incarcerating them or killing them will stop them from committing unspeakable acts. But there are people who are genuinely sick, who do not get the help they need, and who end up doing things like this. I am in no position to say whether the Sandy Hook shooter fell into this category – I am just making the point that mental illness, when left unchecked, can have terrible, tragic consequences.
Mental illness is like just about every other illness or condition on the face of the planet. The earlier it is detected and treated, the better. We could talk all day about how mental health facilities need to be more easily available to those who need them. Few would argue the validity of helping people who need to be helped.
But the challenge begins before the mentally ill person even gets to the point of discovering that the help they need may be hard to come by.
We live in a society that, say what you like, is not very accepting of mental illness. I mean that in a very literal sense: there is a deep-seated reluctance in many people to acknowledge that there is such a thing as mental illness. I have a list of mental health issues, including no less than four different kinds of depression. When I have tried to enlist the support of those around me like the websites say you should, I have been hit with stuff like this:
* "You're depressed because you're dwelling on the past."
* "All you need to do is change your attitude."
* "You need to have more consideration for your family."
* "You need to choose to be happy."
And my personal favourite:
* "You need to snap out of it."
When people with mental illnesses are bombarded with messages like this, what are the chances of them actually being motivated to seek professional help? If someone has depression, anxiety, PTSD or any other mental illness, the last thing they need is for a doctor to tell them they are imagining it, or that they are somehow to blame. Many people in that position do not seek help because that is exactly the response they fear.
The truth is that mental illness is very real, and very frightening to those who experience it. It is not something that can be fixed through a simple change of attitude. You cannot just "snap out of it". People who commit suicide are not, as many believe, "just thinking of themselves". They have simply reached a point where they cannot see a way forward.
Just over a decade ago, when I was a new arrival in Canada, Toronto news was full of a terrible story about a woman who had leaped into the path of an oncoming subway train while holding her six-month-old baby. The baby died instantly, but the mother hung on in hospital for a while before succumbing to her injuries. The public was outraged. How could this woman have deprived her child of life? What kind of monster was she?
The story unfolded to reveal a woman who was so desperate that she didn't know what to do. Following the birth of her child, she was caught in the grip of post-partum depression. She did not receive the help that she needed in spite of having told her nearest and dearest that she was depressed and frightened. They just didn't understand the depths of the problem, and in all likelihood, she was too ashamed to go to a professional.
Do I condone what that mother did? No, of course not. I never think it is OK for someone to kill their child or anyone else. But having gone through post-partum depression (which, by the way, was untreated for over a year because I felt too ashamed to seek help), I can appreciate just how scared and depressed and absolutely hopeless she probably felt.
People with mental illnesses need to be encouraged to seek help for their conditions. In order to accomplish that, we need to change the way we think about mental illness. People who have mental health problems need to stop being told that it is "all in their head" or that they have the power to change things under their own steam. They need to be given the message that help is available to them and that there is no shame in seeking it out.
Reducing the stigma surrounding mental illness would not fix everything that is wrong with the world. It would not eliminate all tragedies. But there is a very good chance that it would save some lives.
(Photo credit: Steven de Polo. This picture has a creative commons attribution license.)