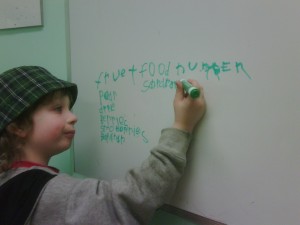 My son George started Kindergarten just four short months after being diagnosed with autism. It was a bit of a terrifying time for me: I felt as if I had been thrown into this mysterious world full of mazes and obstacles with no map, no compass, and no fixed destination. I didn't know where I was supposed to be going or how I was going to get there. I had no idea how to navigate the terrain of special education.
Over the seven years between then and now, we have had to do our bits of advocacy, but for the most part, George's time at school has been very positive. He has had a series of compassionate, competent teachers and every year, we have seen progress. We have kind of breezed through the K-to-6 years feeling good about George's education.
In recent months, this sense of security almost came to a screeching halt. George, currently in Grade 6, is in a K-8 school that we love. The teachers are fabulous, the principal encourages open dialogue with parents, and the kids in special needs classes are treated with kindness and respect by their typically developing peers.
The only problem with the school is that it does not have a special education program for Grade 7 and 8, so we were facing the prospect of sending George to a program in a neighbouring school. When we went to visit the program last year, when George was finishing off Grade 5, we were not happy with what we saw. We just knew, with that instinct that parents have, that if George went into that program, we would start to see a regression within days.
And so we started the process of advocating for a better Grade 7/8 placement, not only for George, but for all of his classmates. Starting with the principal at his school, we escalated the issue, insisting on meetings with trustees, superintendents, and anyone else who might have any kind of influence in deciding my son's future.
About seven months after our first meeting with the principal, we got word of the school board's decision: George will not be going to the overcrowded, under-resourced program that we saw and hated. Instead, a special education Grade 7/8 program is being introduced in his current school. George and his classmates will stay in the environment that they know and love. They will continue to be a part of a student community that is caring and supportive, with a principal who has been firmly on our side all the way.
Advocacy can be difficult and frustrating. It can be time-consuming and, at times, heart-breaking. But when it results in a better future for many children who need other people to fight for them, it can be the most rewarding thing in the world.
Come back tomorrow for some tips on advocating for your children.
This is an original post by Kirsten Doyle. Photo credit to the author.