For the next week, I will be participating in the WEGO Health "Advocating for Another" blog carnival. As I talk about the joys and challenges of raising a child with autism, I also recognize the contributions – of which there are so many – of my younger son James. All of the posts that I publish here this week are dedicated to him.
Today's prompt: Portrait Post – Write a descriptive portrait of your child/ren. Share qualities that make them, them – and include an image!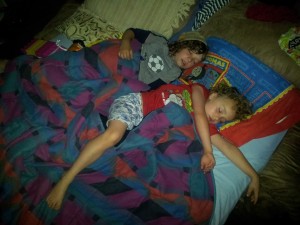 They lie curled up together on the bed, their identical-coloured curls tangled together on a single pillow bedecked in a Thomas the Train pillowcase. The larger of the two boys has his arm thrown casually but protectively over his little brother. These boys are both amazing individuals in their own right, but at times like this, it seems that one would not be complete without the other.
Although only one of the children has a diagnosis, I am an advocate for both of them.
On the left is George, almost nine years old. He is tall for his age: one of those long lanky kids who somehow manages to stay skinny despite eating startling quantities of food. He bears a strong physical resemblance to me: our noses are the same shape, our eyes are the same shade of blue, and when we're tired, both of our left eyes droop ever so slightly in the corner.
George has autism. He has profound delays in speech and social communication, and he gets anxious – almost panicky – when an established routine is deviated from. He has trouble regulating his emotions, and will bang his head in frustration when he is unable to make us understand what it is that's bothering him. There are times when I look into his eyes and see the depth of his frustration, his sadness, his desperation to communicate in ways that he is not able to. It's as if he wishes he could emerge from his world, even if just for a moment.
There are times, though, when his world is a wonderful place. He can see patterns where the rest of don't even know one exists. He sees beauty in numbers: he is comforted by their consistency and their power, and he has always outperformed typical kids of his age in math. If there's a problem to be solved, he will solve it, albeit by a somewhat unconventional method. He has a quirky sense of humour along with the most infectious laugh you ever heard. When George laughs, the whole world really does laugh with him.
And he has the most beautiful, pure heart that is just bursting with love. I treasure the moments when he says in his sweet lyrical voice, "Go give Mommy a hug", and then clambers onto my lap, drapes his gangly arms around my neck and buries his face in my hair.
On the right of the bed is James, who is six going on twenty-seven. He came flying into the world like a cannonball one cold Christmas afternoon, and he hasn't stopped since. He is a bundle of dynamite who zings his way around life with a seemingly endless supply of energy. His face is bright and vibrant, brought to life by shiny blue eyes that view the world with wonder and curiosity.
It is hard for him, being the sibling of a child with autism. Things happen that he perceives to be unfair, but in spite of this, his love for his brother does not waver. He tells me that he loves George more than he loves me – and I am completely fine with that. When George is having a meltdown, James treats him with concern and compassion. Many times, he will be the first one to know what George is trying to say and what he needs. We sometimes see George seeking out the comfort of his brother – comfort that James is always ready to give.
James shows wisdom and empathy beyond his years. But when he wakes in the morning and sleepily climbs into my lap, his little body melts against mine and I am reminded that he is just a baby. He may be a little brother with a big brother's role, but he needs to be nurtured, cared for, protected. We need to be make sure that as he grows up, his role as George's brother is balanced by his identity as James, as an individual with his own hopes and dreams.
I worry about the future for both of my boys. They will each have their challenges to deal with, and their battles to fight.
But now, as they lie sleeping, they don't have a care in the world. And that's just the way it should be.
(Photo credit: Kirsten Doyle)