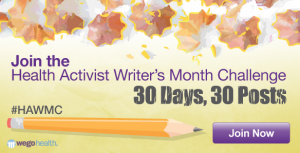 Happy April Fools Day! This day means two things. First, we all get to play pranks on our families and co-workers. And second, it is the first day of the Health Activist Writers Month Challenge. This is a fancy way of saying that for the month of April, you will be seeing one blog post from me every day, as I try to raise awareness for the causes that matter to me. I participated in this challenge last year – miraculously, without missing a single day, and I had such a lot of fun with it that signing up again this year was not even a question.
Why am I doing this? With everything that I already have on my plate – full-time job, commute from hell, finances for the husband's business, school, running, parenting, and a million other things – how can I commit to writing a blog post every single day? I mean, that's a lot of effort.
I do it because I love it, and because I am passionate about the causes I write about. I have a genuine desire to make a difference through the stories I tell. I want parents whose kids have just been diagnosed with autism to know that everything will be OK. Sure, the definition of "OK" might change, but there is always hope. I want people to know that the kid they saw having a meltdown in Wal-Mart wasn't being a spoiled brat. He was simply having immense difficulty processing all of the sensory inputs that were going on. I want other moms in my position – moms who are juggling a lot of stuff including bouts of mental illness – that it can be done, and that they should take some time out to take care of themselves.
Sometimes I simply want people to celebrate my kids' accomplishments with me, or I want them to share my outrage at something, well, outrageous, or I just want them to have a bit of a laugh.
Yes, it's a time commitment, but it's one that I am more than happy to make. Because sharing a little slice of my life through this blog is my passion.
I am excited to be taking part in this challenge, and I am excited to read the awesome posts that my fellow health activists will put up.
You too can sign up for this challenge. Just visit info.wegohealth.com/hawmc and fill in your information!
What are the health concerns you care about the most?