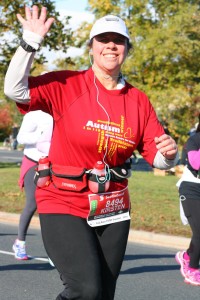 I don't believe in New Year's resolutions. If I realize in September or October that something in my life needs to be fixed, I'm not going to wait until January to fix it. Very few of my major life changes have coincided with a new year: I quit smoking in June, I started running in April and I decided to start my own business in August.
That being said, the New Year is a handy time to start new things just from a mathematical point of view. If I want to compare something to prior years – like my weight (which keeps going up) or my bank balance (which keeps going down), January 1st is a good point of reference. Or if I want to try and do something quantitative, like run a thousand miles in a single year, it makes sense to start logging those miles on New Year's Day.
So while I don't actually have New Year's resolutions, there are some things that I am going to start working towards when the clock has struck midnight.
Most of them are centred around my health and fitness. I had such grand plans for my running in 2015, but life kept throwing massive spanners into the works. There were weeks when I barely had time to sleep, let alone run. Circumstances forced me to be a no-show at several races that I had registered for, and I ran my October half-marathon on very little training.
Then I went away to South Africa for a month. I ran a few times and did a great deal of walking, but there were many meals out as I celebrated being with family and friends. When I came back, I flew straight into the Christmas season with its eggnog and turkey dinners and chocolatey treats.
So I am out of shape, and I need to fix that. While I was at my desk trying to decide on next year's races, two things happened. First, I saw a Facebook post from my friend Frank, who has made great strides in his quest for a healthier lifestyle. He posted that in January he is repeating a thirty-day squat challenge that he did in November, and he wanted to know if anyone was going to join him.
Squats are my least favourite form of exercise. If I were to equate squats with food, they would be like cabbage, the very thought of which is enough to cause a gag reflex in me. But unlike cabbage, squats are not likely to make me physically ill – on the contrary, they will strengthen me and make me a better runner. So I responded to Frank's post in the affirmative, committing to a month of squats in January.
The second thing that happened was that I received an email about something called the Moon Joggers. This is a group of runners from all over the world, who in 2016 are hoping to collectively log enough miles to get from here to Mars. It sounds like a fun thing to be a part of, so I signed up and set myself a goal of 1,000 miles, or 1,600 km.
I decided to take this one step further. Starting on January 1st, I am going to attempt a running streak. In spite of my husband's initial reaction, this does not mean that I'm going to run naked. It means I'm going to run for as many days in a row as possible. On my "rest" days, I will run at least one kilometre.
My hope is that through all of this activity, the adjustments I need to make to my overall lifestyle will be easier. I will get more sleep, drink more water and eat more veggies.
I am looking forward to being fitter, healthier, less stressed and more energetic.