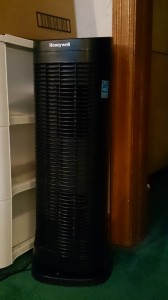 Last year, I was fortunate enough to be invited to the Kaz Mom Must-Haves event here in Toronto. The event featured a number of products aimed at making the home a healthier place for everyone, particularly during the winter.
Winters are a tricky time in Canada. The weather outside is, to quote the famous song, frightful, and the process of heating our indoor spaces to a point where we can live in them removes every last vestige of moisture from the air. Our skins get dry and itchy, and cold and flu bugs travel through dry air a lot more easily. In addition, we spend more time cooped up inside with little to no natural ventilation, so we experience an accumulation of dust mites and other allergens.
At the Mom Must-Haves event I got to chat with Dr. Dave Greenberg, who had a lot of great advice to offer about keeping families healthy when conditions aren't great. He said that there are four keys to staying healthy during the winter:
* Make sure everyone in the family washes their hands frequently, with good old-fashioned soap and water
* Use humidifiers (preferably one in each bedroom) to replace the moisture that heating takes out of the air
* Supplement regular housecleaning with air purifiers to keep dust mites and other allergens to a minimum
* If someone gets sick, prevent bugs from spreading by eliminating sharing of towels and dishes and by using a vaporizer beside the sick person's bed
Kaz was kind enough to give me an air purifier to try out in my own home, and it definitely made the air cleaner than it might otherwise have been. I have been using it for about ten months now, through all seasons, and I absolutely love it. The Honeywell AirGenius Air Cleaner is a tower unit that stands about two feet tall and fits neatly into any corner without taking up any space at all. Mine is tucked into a small space beside a door that I wouldn't be able to use for anything else anyway. It is highly effective in a fairly large space that includes my kitchen and living room. Not only does it keep the air clean, it is close enough to the kitchen to help reduce cooking odours that could otherwise seem overpowering.
Some of the features of this unit include the following:
* The ability to capture microscopic particles 250 times smaller than the width of a human hair
* 4 speed settings, including a super-quiet one for night-time and a super-strong one for the benefit of family members who suffer from dust allergies
* The option to automatically turn the unit off after 2-12 hours
* A night light with two intensity settings that makes the unit visible in the dark
* A pilot light that indicates when the filter needs to be cleaned
* Oscillation that can easily be turned on or off
* A filter that can be cleaned just by rinsing it under a tap – and it takes no time at all to dry
After using the AirGenius for almost a year, during which time Toronto experienced the most extreme winter in recorded history, this is what I have found:
* The incidence of colds in my family has been dramatically reduced. I think we've had five colds between the four of us over the last year. Considering how much time we were forced to spend indoors last year, that is impressive.
* Colds haven't been transferred to other family members, possibly because the number of allergens in the air has been so low, and our immune systems haven't had to fight the effects of allergies.
* Vacuuming is a lot more effective than it used to be. Previously, carpet dust kicked up by the vacuum cleaner would kind of linger in the air. Now it gets captured by the AirGenius. The air in here has a crisp, clean smell that lasts from one vacuuming to the next.
* My husband has asthma, and he never has a problem with his breathing in the living room. He sometimes notices a difference just by entering or leaving the room.
I only have two tiny quibbles with this unit. First, when it's operating on its highest setting, it's a little loud. Second, when it's operating on a medium to high setting, it blows a little blast of cold air right around the level of the lower legs. The first is something that you just get used to. The second, which was only an issue because my desk is right in line with the AirGenius, was rectified simply by putting the unit at a slight angle.
All in all, I'd have to say that this device has made a big difference to me and my family. I would recommend it to anyone, especially those who suffer from allergies or respiratory ailments.
The Honeywell AirGenius air purifiers retail for approximately $250 at major retail outlets, including Target and Canadian Tire.
This is an original post by Kirsten Doyle, published in accordance with my disclosure policy. I was provided with a review unit of the Honeywell AirGenius in exchange for an honest review.
Photo credit to the author. The appearance of different models may vary slightly.