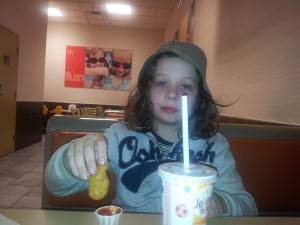 During the first two days of my firstborn child's life, as I lay in hospital with nurses bringing me food and taking the baby to the nursery so I could get some sleep, I had daydreams about how the whole parenting thing would go. I would breastfeed for a full year, and as the baby grew older, I would raise him on a diet of nutritious foods. I would interact with him, play with him, talk to him – he would not need to watch TV. I had visions of lovingly picking him up whenever he cried, never letting him sit for long in a wet diaper, reading to him every day right from the time we brought him home…
I mean, good parenting was just common sense. How hard could it possibly be to be a model mom?
It turns out, very.
What I failed to recognize in those early weeks was that there was no way I could completely give myself over to parenting. There were going to be times when I would have to do other stuff, like laundry, vacuuming and personal hygiene. And let's face it, isn't parenting supposed to be at least partly about the fun stuff, like letting your kid smear chocolate cake all over his or her face?
So here are some "confessions" – and I put that word in quotes because it implies wrongdoing that I do not believe I am guilty of.
1. I feed my kids McDonalds. Not every day, obviously, but from time to time I let them eat junk food.
2. I often let my kids watch TV because it's convenient for me. They're good at self-regulating their TV time so I really don't care about that "Don't let the TV be your babysitter" thing.
3. I yell at my kids. It's not like I'm constantly screaming, but when they drive me insane I just cannot do the Zen-type of parenting that other moms seem to be capable of.
4. I sometimes reward my kids with material things. I'm not too concerned about whether this is teaching them to value the wrong things.
5. If my kids don't eat the meals that are put in front of them, I don't give them an alternative meal. If they go to bed hungry, so be it.
6. I don't play with my kids every time they ask. If I did, I would never get to sit down for a cup of coffee, write a blog post or take a shower.
7. I don't always lead by example. I'm completely fine with my kids learning that they have to follow certain rules that do not apply to adults.
8. It's not a frequent occurrence, but sometimes my husband and I have arguments in front of the kids. It doesn't bother me: on the contrary, they are learning that every healthy relationship includes conflict and the resolution thereof.
9. I love my kids unconditionally, but there are times when I don't like them very much. Frankly, they sometimes act like little jerks.
10. I sometimes lock myself in the bathroom to avoid having to share chocolate.
Do these things make me a bad mom? Or do they simply make me human? Do you have any confessions of your own to share?
(Photo credit: Kirsten Doyle)