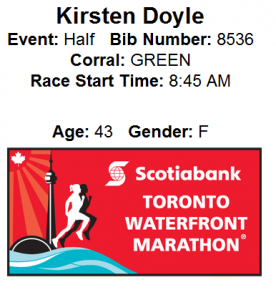 Since September 2009, I have run seven half-marathons, four ten-milers, two 15K races, two quarter-marathons, twelve 10K races, one 8K race and three 5K races. That's a total of 31 races covering more than 400km.
You'd think I'd be OK with pre-race nerves. And yet, as I sit here now, three days before my 8th half-marathon, I'm in absolute flitters. I cannot sleep, I cannot eat, I cannot concentrate on anything apart  from the countdown clock on the race website. Which, in case you're interested, currently reads 2 days, 18 hours, 59 minutes.
The biggest cause of the problem is Taper Madness. This is a real condition – so real that there's a website devoted to it. It happens during the last two or three weeks before a distance race, when you reduce your training mileage in order to rest your body. The reduction in physical activity plus the pre-race jitters result in you prowling restlessly around the house in search of something to do with your overflowing energy levels.
Not only is this not fun for me, it's not great for my family either. My constant fidgeting and nerviness has them on edge. I think they were somewhat relieved yesterday when I told them that my training schedule called for a short run.
"Get out," they told me, "and don't come back until you've run for at least thirty minutes."
That run did me the world of good, although I went somewhat faster than I was supposed to. I couldn't help it. It was either that or explode from the pent-up energy. For the remainder of the day, I was calmer and less antsy, and generally nicer to be around.
This morning, I'm back in bounce-on-the-ceiling mode, and I'm likely to stay that way until the start of the race.
This is an original post by Kirsten Doyle.