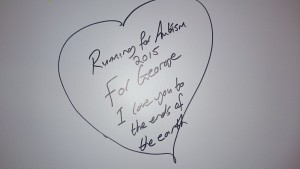 Two days from now, I am running my annual half-marathon for kids with autism. You'd think that after doing ten half-marathons in the last six years, this would be old hat to me. I am familiar with the distance, and since this year is my seventh Scotiabank Toronto Waterfront race, I am familiar with the course. I know exactly where the hills are (not many, thank God, and none of them are exactly mountainous), I know where the halfway point is, and I know which sections of the course are more challenging for me.
The training, the period of Taper Madness and the race itself are supposed to get easier with each passing year, right?
Well…
This year, my family has faced some intense challenges. A series of unfortunate events culminated in my husband having just three weeks' notice to vacate his business premises. This meant packing up and moving fifteen years' worth of product, tools and heavy industrial-grade machinery. While this was going on, I landed a big contract for my own fledgling business that I couldn't turn down. I was helping with the move during the day, working on my contract at night, and grabbing catnaps on the couch from time to time.
This left me no time for running. My half-marathon training called for intense speed work during the month of July. Instead, my training ground to a screeching halt, and I was only really able to get it going again halfway through August. By then, as much as I had tried to keep my work on an even keel, I had fallen so far behind that I was continuing to work late into the night. So although I was running again, I wasn't running as much as I needed to.
Consequently, I am not as prepared for this race as I should be. I know I can complete the distance, but I do not expect it to be my finest hour. I don't even have a goal time in mind. All I want to do is cross the finish line, get my finisher's medal, and come home where I can sit on the couch and eat weird amounts of cheesecake. If I get a decent time – and I'm certainly not ruling that out – that will be a bonus.
My fundraising hasn't gone as well as I had hoped either, for pretty much the same reasons. Asking people for donations makes me feel more than a little awkward at the best of times, and this year it has been particularly challenging. I haven't had time or energy, and I have been operating in a fog of exhaustion and stress. I have fallen far short of the fundraising goal that I had set for myself.
But still – I have raised almost $300, and that money is going to make a huge difference to some kids with autism. It will provide art supplies, musical instruments, sports equipment or camp activities. It will give young people with autism opportunities and experience that might otherwise be out of reach for them. And I am more grateful than words can express to the people who have helped me reach that total.
I think, in spite of the circumstances, I have done all right. I feel excited about the upcoming race, and I feel proud to be doing my small part to make a difference to children and youth with autism.
It's not too late to donate. If you would like to sponsor me, please click here. All funds go to the Geneva Centre for Autism, where they will be used to provide services for children and teens with autism.
This is an original post by Kirsten Doyle. Photo credit to the author.