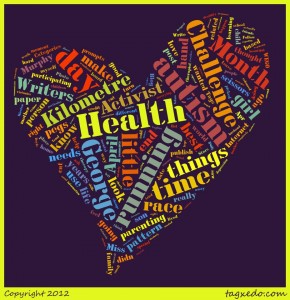 2012 is shaping up to be a busy year. In the last five months, I have taken an emergency trip to South Africa, run three races, and had my website revamped. I have also participated in two consecutive month-long blogging challenges, ending yesterday.
Today I am publishing a post for the 62nd day in a row. While I have thoroughly enjoyed these opportunities to indulge my passion for writing, I am ready to change the pace for a brief period of time. Blogging every day in addition to holding down a full-time job, parenting two young kids, and training for a half-marathon – well, it can be tiring.
I'm not planning on fading away into the sunset (particularly today, since it's raining and there will be no sunset). Instead, I am going to work on other parts of my website that I have not had the time to get to yet.
I will be putting together a blogroll (if you would like your blog to be included, send me an email). I will be creating resources pages for the autism and running communities, and once I have made up my mind about the rest of the racing season, I will be updating my list of races.
My actual blogging will take a backseat for the next week or two, but I have lined up some guest writers to take care of that. I am truly excited to bring you some great stories from different walks of life, starting on Monday.
Before I quietly slip out through the side door to get more coffee, I will leave you with some highlights of the last two months of blogging. The posts mentioned below are the ones that have attracted the most views.
Highlights of the Health Activist Writers Month Challenge in April:
In Week 1, I described a conversation I had with my younger son about his understanding of his brother's autism.
In Week 2, I wrote a letter to my 16-year-old self offering some words of hard-earned wisdom – not that she would listen to an old fogie like me.
Do you ever get stressed out about little things that really don't matter? In Week 3, I gave myself a bit of advice, the gist of which was to just chill out.
I ran my second race of the season in Week 4, and wrote about how I found the zone.
Highlights of the 2012 Wordcount Blogathon in May:
I keep hearing people talk about how kids with autism are incapable of affection or empathy. In Week 1 of the Blogathon, I decided to try and bust that myth.
In Week 2, my younger son lost his first tooth, in more ways than one. We had to get the tooth fairy to come, even though we didn't have the actual tooth.
May was Mental Health Awareness Month, and during Week 3 of the Blogathon, there was a Mental Health Blog Party. I wrote about postpartum depression, in hopes that sharing my experiences would help someone.
In Week 4 I wrote about the most precious of gems: those little moments with my family that make me feel like the richest person in the world.
I was feeling introspective for much of Week 5, and wrote about how I made peace with a decision that parents all over the world wrestle with.
The blogging challenges are done – at least for now. But the writing continues, because I will never run out of words.