With just a few days left in 2013, this seems like a good time for me to take a look at some highlights of the last twelve months. The word "highlights" is a bit of a misnomer, though – a large portion of the year was filled with the most mind-bending stress. To be completely honest, I am ready for the year to be done. I am ready to wake up on January 1, 2014 looking forward to a year of new beginnings.
Not a lot happened in the first three months of the year. I was working overtime on a massive project, so for a while I didn't really have a life. From time to time I went running, and that was going great until the day I gave myself an injury by doing a long run at race pace on icy sidewalks. As far as common sense goes, that was not one of my shining moments. I had to pull out of a half-marathon that I had registered for – not the greatest start to my season.
In April I ran a ten-mile race that can only be described as my worst race ever. It took place on a golf course, which was very scenic but had a scary number of hills. If the weather had been nice it might not have been so bad, but it was cold and windy, and it was raining. Instead of feeling down about my dismal finishing time, though, I was surprisingly upbeat. I had run this brutally hard race in terrible weather, and I had crossed the finish line. It was a testament to my determination. The hard-earned finisher's medal I got that day is one of my favourites, just because of how hard I had to work to earn it.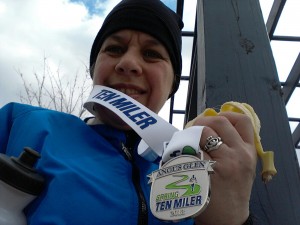 In May, my life kind of spiralled out of control a little. Things were going reasonably well at the time: my running was back on track and my big project was a whisker away from being closed after a successful implementation. A few days from the end of that month, I got the shock of my life when I was called into a little office in the HR department and informed that I no longer had a job. I had seen it coming – much change was afoot at my place of work and they had been downsizing people for a while.
Something else happened in May that shook my foundations quite badly. One of my best friends, who I had known for seventeen years, passed away after a lifelong battle with Cystic Fibrosis. Fran was just shy of her 41st birthday when she died, and years of knowing that I would in all likelihood lose her did not make it easier when it happened. I have so memories that include Fran, including her first race and my wedding. Seven months on, I'm still having trouble adapting to a world that she no longer inhabits.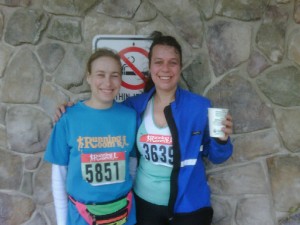 In June, my family and I went away to Niagara Falls for a few days. It was a break I desperately needed, and it included the Niagara Falls Women's Half-Marathon. I had a fantastic race – although it was not my best-ever performance, my finishing time was respectable enough. The race was a perfect opportunity for me to run off a bit of stress.
July kind of passed without me noticing. I was worn out from stress and grief, and I was fighting what felt like a losing battle with depression. I applied for jobs without getting any responses, and my spirits sank lower and lower with each passing day. Ultimately, what got me through was running.
August started off on a note of terrible tragedy, when a friend's seven-year-old son drowned in a river. He hung on in hospital for a couple of days, but in the end, his mother had to make the heartbreaking decision to let him go. I felt the kind of sadness that threatens to engulf you, like a heavy blanket that suffocates. I started worrying a lot – about my kids, about the twists and turns of fate that we have no control over, about friendship and whether I was doing enough for the people in my life, including the bereaved mother.
In September, I was supposed to travel to Ottawa to take part in the Army Run, a majestic half-marathon in the nation's capital city. Due to illness and circumstance, the trip had to be canceled at the last minute. The disappointment was excruciating. In the grand scheme of things, it wasn't a big deal, especially when looked at beside all of the other stuff that had been going on, but at that point my coping skills had been eroded to the point of nothingness. I turned to my trusty method of stress relief and threw myself into my running.
A month later, my training paid off when I ran my main race of the season: the Scotiabank Toronto Waterfront half-marathon. For the fifth consecutive year, I ran the race to raise funds for the Geneva Centre for Autism. Inspired by my son George, I ran my way to a personal best time. It was a truly fantastic race, and that day marks the point at which I finally started to claw my way back from the terrible depression that I had been going through.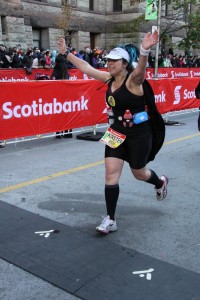 In November I signed up for a novel-writing challenge called NaNoWriMo. I decided that what I really needed was a goal, and writing a book in thirty days seemed like a reasonable one. Every day when I woke up, I sat at my laptop and hammered out two thousand words, and by the time the end of November rolled around, I had a completed manuscript of almost 60,000 words. It was a first draft, meaning I would need to do a whole lot of work to make it fit for public consumption, but I had done it. That achievement did wonders for my confidence.
December has, for the most part, been kind to me. Yes, we had a pesky ice storm that cut out power for a few days and left a mess of fallen trees and broken branches all over the neighbourhood, but we got through it. Although there was the obligatory family drama, we enjoyed Christmas. We even got a picture of Santa that involved a lot of fun and no autism meltdowns.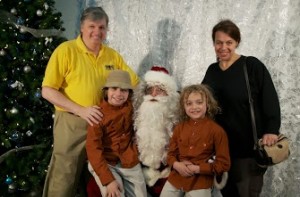 Over the next few days, I will be setting some goals for 2014. I have lofty plans that include running a 30K race and getting my book published. For now, though, I am enjoying time with my family, and in spite of the more stressful things that have happened this year, I am feeling grateful for what I have.
This is an original post by Kirsten Doyle. Photo credit for the Scotiabank Toronto Waterfront Half-marathon picture: www.marathon-photos.com. Photo credit for all other images: Kirsten Doyle.