The first time I met Jennifer Krumins, she was having a fight with her laptop. She was slated to give a parent education presentation at George's autism therapy centre, and she couldn't get her technology to work. She endured some good-natured heckling from the front row (read: from my husband), got her PowerPoints to work, and went on to deliver a riveting presentation.
Jennifer is an autism parent, educator and author. She willingly shares her hard-earned wisdom for the benefit of parents who may be feeling a little overwhelmed by the whole special needs gig. Thanks to what I have learned from her, I have become somewhat good at advocating for my son in the school system without alienating anyone along the way. Whenever I start getting my annual IEP-related panic, I start posting stuff about it on Facebook in hopes that Jenn will respond with a gem of wisdom, and she always does.
Since the first time I met Jenn, I have attended more of her presentations and roped my mom into filling out a questionnaire for her book entitled Autism and the Grandparent Connection (which you really should read, even if you're not a grandparent). We have become friends and we're looking forward to having a drink together at this year's autism symposium that Jenn will be presenting at.
Today, she tells us about her journey as an autism parent, and offers us some advice to help us along the way.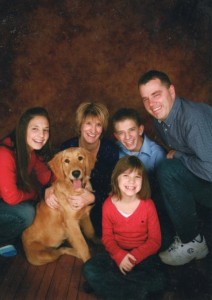 I don't run marathons. I really admire people who do. I have some friends that train faithfully and test their endurance over the course of a few hours…by choice!
I am the parent of a sixteen year old boy with autism. Biggest marathon of my life. Yes, raising a child with autism is perhaps the supreme test of endurance. And yet, like many of my running friends, I would sign up to do it again because in my memory, the moments of success were far more remarkable than the moments of pain, exhaustion and heartbreak.
So what are the secrets of our successful marathon? Is it a medicated state of euphoria that I am experiencing….only to be rudely awakened by reality when the meds wear off?
No. I can honestly say that while the road has been long, harrowing at times and I have fallen on my butt on many an occasion…the journey has delivered far more emotional, intellectual, spiritual and social growth than our family could have dreamed.
The secrets have been revealed to me through fellow "autism marathoners," trial and error, and most of all through the wisdom of children with autism (my own son and those students whom I have had the privilege to teach). I have learned some valuable tips to enrich the journey and increase endurance:
1. Instead of carb loading…try optimism loading. It's very good for you and your child! Optimism is a way of looking at life and its inherent stresses. Being an optimistic person does not mean that one is always happy and peppy… it is that you choose to look for opportunity in the middle of adversity. Feed your brain with daily/hourly reminders that adversity is temporary, and that your child is making progress (even if it's tiny steps). "Children learn what they live," and as the adults in a child's life it is our responsibility to model an attitude of positive persistence and hope. We can choose to believe that there is hope, meaning and joy within any given moment.
2. Take a long term approach to training. You would not be able to run your first marathon immediately after deciding to do so. You need to train. It's the same thing with raising your child. Too often, we get stuck on a panic button in the early years. We may feel like we have to do it all right now in order to win the race against autism. It doesn't work that way. Live in the present but plan for the future. Each day, each hour that you invest in being the kind of parent you want to be has a cumulative effect. In the long run, it is the lessons of perseverance, self- advocacy, and hope that will develop your child's ability to be resilient and to ignite a sense of self- worth and self -confidence. Children learn by doing….by failing and trying again. They do not gain self- confidence when we tell them they can do it….and then we do it for them. The values you live by will be the greatest gift you give your child with autism….more than any treatment/intervention.
3. Visualize and rehearse the route. What are your long-term goals for your child? What do you envision for your child in the future? Design your plan so that you not at the mercy of someone's map. Take the time to write down your thoughts on the following: What are my child's strengths, skills, interests, challenges and limitations? What about my child gives me the most joy? What are my biggest fears or worries? What goals do I value for my child's development? What specific behaviours, or other problems, have I observed? How did I react? What did I do in the situation? What could I do better next time, if anything? Have I recently noticed any changes in behaviour or ability? Be prepared to share what you know with those who are on the journey with you (even if you don't like them). But remember, your plan must be in writing.
4. Talk with folks along the way, enjoy the course, smile often. The autism marathon is a social event. Too often we try to do it alone and we burn out. We need each other. We even need the people that drive us nuts because they keep us running; trying to learn more, be more and advocate more. Choose not to allow bitterness, resentment and hatred ruin the journey. We are the ones who suffer (as do our children) when we allow destructive feelings to shape us. Advocate one step at a time, one person at a time with patience and humility. The journey is much richer when we allow others to help. It is a sign of strength and selflessness to say, "Yes, I could use your help."
5.  Set goals. Work to achieve them and stay focused on the things you want. Your life does not wait until you "fix" the autism. This is it. Treat your life as the gift it is. The time is now to take figure out what you will be living in the next five years (ten and twenty). Start with small steps towards those goals. Catch yourself if you are waiting to live your life. Perhaps, autism is in some way a vehicle for achieving those goals. Seize the time and model for your child what it looks like to live a goal directed life.
The marathon continues. There are more times of peace now…but never for too long. Struggle creates a rich environment for personal growth. Just set your eyes and heart on the target and keep putting one foot in front of the other.
To learn more about Jennifer and the books that she has written, check out Autism Aspirations.
(Photo credit: Jennifer Krumins)