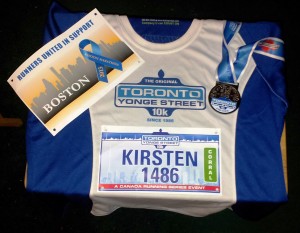 There is something very strange, and very uplifting, about standing at the start line of a race less than a week after a marathon was targeted in an act of terror. Especially when you are one of several thousand participants, most of whom are wearing special bibs declaring their support for the city that the bombing happened in.
To say that the atmosphere at Sunday's Toronto Yonge Street 10K was amazing would be a gross understatement that does not begin to describe what it was really like. Start-line energy is phenomenal enough as it is. Add in the fact that thousands of runners are all banding together in solidarity for those affected by the Boston bombing, and you have something truly spectacular.
For that reason more than any other, I was mentally ready for this race. I should have been nervous, considering that my worst race ever was just two weeks in the past. I had not exactly had a resounding start to the season. But instead of being nervous, I was excited about this race for days. Judging by the fact that you could almost reach out and touch the atmosphere at the start, my 6000 or so fellow runners were excited as well.
Not only was I mentally ready for the race, I felt physically ready as well. Just a week before the race, I had gotten my training back on track, and I had also moved back to a cleaner way of eating. I was realistic enough to know that I probably wouldn't make a personal best time, but I thought I had a shot of beating a pace of 6:30 minutes per kilometre, which would have given me a time of 1:05:00. That would be enough to set me up for a good solid few weeks of training leading up to my next half-marathon.
As is my custom, I placed myself quite far back in my corral, and so when the race started, I found myself boxed in by runners slower than myself. For the first kilometre or so I kept having to slow down and dodge around people. I didn't mind – in fact, I counted on it. If I didn't get slowed down at the start, I would go out too fast and run out of gas before the first aid station.
As it happened, my first couple of kilometres played out exactly as planned from a pacing point of view. Sometime during the second kilometre, I found my space to run and I settled into my pace. In spite of the fact that most of the first 7km or so are downhill, I deliberately held back for the first half of the race. Downhill running can be easier from an exertion point of view, but if you're not careful, it can be absolute hell on the knees and quads. Apart from that, I feared that if I went nuts on the downhills, I wouldn't have anything left for the last 3K or so.
I made the halfway point in a little less than 32 minutes. I was happy with that. I was going at a pace I thought I could maintain for the second half, and I was on track to beat my goal time. I had a buffer of a minute or so, which would come in handy if I started to fade near the end.
Instead of fading, though, I ran the second half faster than the first. I was tiring physically, but absolutely uplifted mentally. The crowd support along the route was fantastic. There were little kids holding out their hands to high-five passing runners, people cheering us on by name, and folks holding handmade banners that said things like, "Run for Boston!" It occurred to me that coming out to support the runners in the aftermath of the Boston bombing was as much of a big deal for these people as running the race was for me. In a sense, I was running for them, for these wonderful folks who were showing solidarity with the running community, and I couldn't let them down.
And so I sped up. I smiled and waved at everyone who cheered. I high-fived the children who stood there with their arms stuck out like traffic policemen. I gave a thumbs-up to the people holding banners. I drank in the positive energy that they all offered, and before long, I was sprinting for the finish line, where spectators and runners alike were cheering loudly, not only for the victory of runners crossing the finish line, but for the triumph of a community absolutely united against violence and fear.
In the end, my time was 1:02:48 – more than two minutes faster than my target, and only 68 seconds off my personal best. Not a bad showing at all.
During the winter and the early weeks of spring, my mojo went into hibernation.
I'm pretty sure it's awake and ready to go for another season.
(Photo credit: Kirsten Doyle)