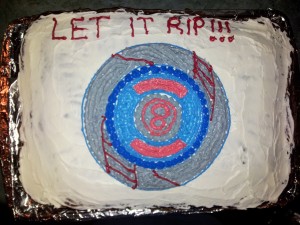 Once upon a time, on Christmas Day, a child was born.
No, this is not a story about Jesus. Apparently, historians haven't been able to determine exactly when Jesus was born. We just celebrate his birth on Christmas Day because it was a popular day for pagan celebrations.
The baby in my story, who was actually born on Christmas Day, is none other than my younger son James. After keeping me waiting for more than a week past his due date, he came flying out like a cannonball eight Christmases ago, and he hasn't stopped since. Maybe he can't walk on water or turn water into wine, but he has definitely added a special kind of energy and excitement to my life.
He has also made birthday celebrations a little challenging, simply because of the day on which he chose to make his very loud arrival. On the one hand, we feel that we need to separate his birthday from Christmas, so that his birthday can get the attention it deserves. On the other hand, we want to celebrate his birthday on the actual day of his birthday.
Over the years, we've gotten better and better at this birthday-on-Christmas thing. We divide Christmas Day in half and do Christmas stuff in the morning. Then we have lunch, and from that point the rest of the day is devoted to James's birthday. We give him birthday presents and have cake, just the four of us.
The full-on birthday parties that include James's friends have, until now, happened in early December. This year, I decided to change the formula and have the party in January, after the actual birthday. And that is how, three days ago, I had a house full of energetic boys.
The party was a resounding success. For most things, I took the easy way out: pizza and chips for lunch, and disposable dishes so I wouldn't have to spend all night washing up. I invited the kids' respite worker – a 17-year-old boy who the kids absolutely adore – to come and run the activities. I got a pinata and some prizes, and goodie bags for all of the guests.
As I do every year, I worked very hard on the cake. For both of the boys, I do theme cakes based on whatever they are into. George has had Bob the Builder, Mr. Potato Head and Spongebob Squarepants. James has had Thomas the Train, Lightning McQueen and Ben Ten. This time round, it was a Beyblade cake. I was up until midnight the night before the party, mixing icing of different colours and meticulously drawing out the design on the cake. I looked like a mad scientist, with my hair all wild and bowls of red and blue and grey icing surrounding me.
The end result was pretty much what you would expect from someone who knows squat about decorating cakes, but I was pleased with it. More important, James's face lit up in delight when he saw it, and his friends were saying Oooooooooh! and Cool! The cake was clearly and instantly recognisable as a Beyblade cake, and that was really all that mattered to me.
That and the fact that the kids had an amazing time. We had just the right number of kids, and the activities flowed at just the right pace. Even George, whose autism frequently makes him retreat from things like this, was happy to be among all of the kids, even if he didn't actively participate in a lot of the proceedings.
The birthday boy was happy, and he felt that he got the birthday he deserved.
This is an original post by Kirsten Doyle. Photo credit to the author.