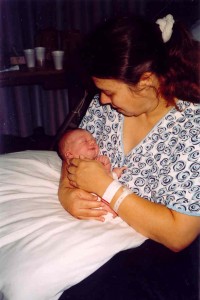 To my darling George,
As you go through life, you will hear many people saying that they don't know what the meaning of life is. What is the purpose behind it all? Why are we on this earth and what are we supposed to accomplish?
Eleven years ago today, I found out the answer, and it is not something that can be put into words. It is something that can only be understood from looking into the eyes of your newborn child as you contemplate the enormous responsibility of creating a life.
Your birth – all 21 hours of it – was an anxious time for me. I had never done this before, and I really didn't know what to expect. It took me several hours to recognize my labour pains for what they were. I suppose my frantic nesting activities that day should have been a clue. I was almost manic with activity as I flitted from one task to the next, vacuuming, doing laundry, reorganizing the fridge, cleaning windows – all while each pain radiating from the centre of my being brought you one step closer to me.
And then, that magical moment arrived. I lay spent on a hospital bed as your first cries filled the room. You were placed into my arms, and as I felt the warmth of your tiny little body, the thought struck me: "This is it. I'm a mom."
That day feels like it was five minutes ago and a lifetime ago. Sometimes I look at you and think about how far you've come, how tall you are, how you are starting to make the mysterious transition from boy to man. And other times, when you come to me in need of comfort or a hug, when you try to curl your lanky self onto my lap, I look at you and see my baby.
Life with you has been an adventure. You have not followed the same path as most kids. There have been many times when we have had to stray from the beaten track and take the scenic route. The scenic route may take longer and have more obstacles, but it allows us to look at life from a different angle, and when we arrive at our destination, the sense of victory is like nothing else on earth.
I keep hearing about how challenging it is to be the mother of a child who is different. And yes, the challenges are real and cannot be denied. But the truth is that above everything else, being your mother is an honour and a privilege. You, along with your brother, represent what life is all about. Every day, you teach me something new about the things that are really important – love, determination, perseverance, togetherness, family.
You are my heart and soul.
Happy birthday, my son. I look forward to another year of discovery and adventure as you start your next rotation around the sun.
I love you forever,
Mom