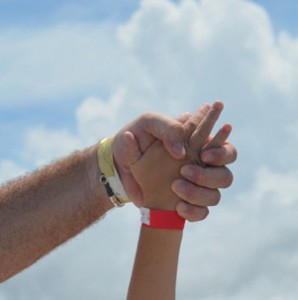 I am angry.
I'm not talking about mild aggravation here. I am scream-in-frustration spit-in-someone's-eye angry. I would like to take the object of my anger, lock him into a room with me, and give him a stern what-the-bleep-are-you-thinking talking to.
Deep breath… soothing thoughts…
Allow me to explain.
As an autism parent, I spend the better part of my life fighting for stuff. Six years ago, I fought for the assessment that led to George's diagnosis. Then I fought for services. Every year I fight for funding to pay for respite workers. I fight for educational accommodations and opportunities for my son.
I fight for awareness.
Most of all, because I want my son to have the opportunity to live a happy, healthy, productive life, I fight for acceptance. I try to encourage people to look past the more challenging aspects of autism to see my child for who he is: a beautiful human being, full of love and bursting with potential.
From time to time I see baby steps of progress. Someone might leave a comment on my blog saying that they have a greater understanding because of my writing. Or I might see comprehension dawn in someone's eyes when I offer an explanation for a grocery store meltdown. Those moments of progress are so gratifying, because they give me hope for my son's future.
And then, along comes MSNBC host Joe Scarborough, stating that the man responsible for the Colorado movie theatre shooting was "probably on the autism scale."
Thanks, Joe. Way to promote acceptance for people with autism. Telling the world that a kid with autism could potentially grow up to be a mass murderer really helps our cause.
What astounds me is that Joe Scarborough is the father of a child with Aspergers. Having parented a child on the spectrum, hasn't he had to have the same fights as other autism parents? Has he not had to beg for funding, or services, or the rewording of a point in an IEP? Has he not dealt with the stares of unsympathetic strangers or the ostracism of his child?
Has he not worried about whether his son will be accepted by the society in which he has to live?
Joe Scarborough's statement about the Aurora shooter is not based on anything but dangerous speculation. It is my hope that most people will have the sense to dismiss what he said as groundless nonsense. It is my fear that he has planted new seeds of baseless stereotyping that will serve to further isolate the kids we are trying so hard to integrate.
People really need to think before they speak. Especially people with any kind of public voice.
(Photo credit: Fifth World Art. This picture has a creative commons attribution license.)