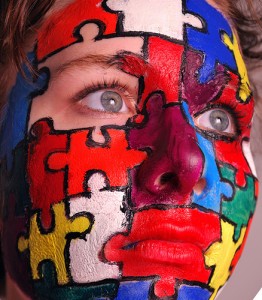 In many countries around the world, April is designated as Autism Awareness Month. In the lead-up to it, I am starting to see more postings on Facebook offering autism awareness merchandise, providing little factual snippets about autism, and inviting people to "Light it up Blue".
I am also seeing ranty posts about how awareness is NOT ENOUGH, action is NEEDED, and the Light it up Blue campaign is nothing more than a ploy to line the pockets of people working for Autism Speaks, who let's face it, do not provide financial assistance to affected families.
Sigh. Here we go again.
I don't have feelings one way or the other about Light it up Blue or Autism Speaks. I don't care that they don't give money to families, because they are an organization that funds research. I have a feeling that some of the people so vehemently opposed to them care less about whose pockets are being lined and more about the fact that Autism Speaks is not a proponent of the controversial vaccines-cause-autism theory.
Which is fine. I don't expect people to support organizations with philosophies that differ from their own. I believe that the prime driver of autism is genetics – I wouldn't throw my voice behind an organization that actively tries to prove otherwise.
I also wouldn't say derogatory things about people who don't share my views. I wouldn't put up postings implying that those who don't agree with me are stupid or uninformed. I wouldn't make use of insulting terms like "sheeple".
I would live and let live.
People tend to have reasons for their beliefs. I know for a fact that vaccines had squat to do with my son's autism, and both of my children are up to date on all of their shots. But I would not presume to tell people that just because my kid came out of the womb with autism, theirs must have as well, and if they don't agree with me – then, you know, they are "sheeple".
I tend to use the phrase "autism community" a lot, as if we were all just one big happy family that just wants the rest of the world to accept our kids. At times, though, I question whether there is an autism community. Sometimes – particularly during Autism Awareness Month – it feels as if there are many different sects that are all divided. Each sect has members who are more than happy to leave others to their different beliefs, and each sect has those who are almost militant in their attempts to get other people to think the same way they do.
I am of the opinion that Autism Awareness Month should not be used to push agendas about what may or may not cause autism. I think it should focus more on the fact that our kids have autism, whatever the cause was, and they are individuals who have a lot to offer society. It should be about trying to make the world a better place for our kids – a place where they can grow and flourish and reach their full potential, whatever that might be.
How can autism parents hope to make the world accept their kids when we cannot even get along among ourselves? What kind of example are we setting for the society that we're hoping will treat our kids with the respect they deserve?
If you want to Light it up Blue or promote awareness in any other visible way, go ahead. Whether you support Autism Speaks or any other organization, give them whatever support you feel comfortable with. Tell people about your views if you like, but graciously accept that they might think differently.
Autism parents, we're all in this together. All of our kids have autism. Let's be nice to each other for their sake.
(Photo credit:
Ashtyn Renee
. This picture has a creative commons attribution license.)