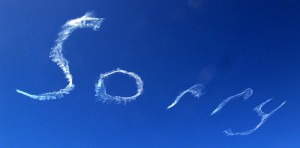 He's been needling me all day.
It's a cold, rainy day and I didn't get any sleep. The weather is too miserable for me to go outside for some invigorating fresh air. I'm trying hard to hide the fact that I'm irritable, and for the most part, I've been succeeding.
Just another hour to go…
Just sixty more minutes until I tuck him in, turn the lights out and kiss him goodnight. He'll sleep well tonight. He usually does when he's been fussing all day. Irritation and anxiety take a lot of energy out of him.
And there has been a lot of irritation and anxiety today. He's kept on wanting stuff but not knowing how to ask for it. He's been frustrated by my failed attempts to understand him. He has been pushing his little brother around, because he just doesn't know what to do with the frustration. Sheets have been ripped off beds. Toy boxes have been turned upside down. Hampers full of clean, folded laundry have been upended. There's a new hole in the drywall from a headbanging incident.
I've been taking it in my stride, talking in low, calm tones to soothe myself as well as him. Earlier I escaped to the shower for a much-needed ten minutes. I've been keeping myself going by taking this difficult day in five-minute chunks, by guiltily counting down the minutes until the kids' bedtime, by promising myself a relaxing glass of wine as soon as the kids have dropped off to sleep.
They're in their pyjamas now, and I'm preparing their bedtime cups of milk.
He comes up to me and yells something unintelligible. I sigh inwardly and look at him.
"What did you say?" My question comes out more sharply than I had intended.
He walks over to the door, and opens it for the express purpose of slamming it as hard as he can.
And just like that, I've had enough. That one small action has been enough to send me over the edge, to be the proverbial straw that breaks the camel's back.
"I'm SICK of this!" I scream, surprising even myself. "Why can't you just be NORMAL?"
Instantly, I realize what I've said and I feel like the worst mother in the world. This is my son, my beautiful boy. He hasn't been difficult today on purpose. It's not his fault he has autism, and he hasn't enjoyed this anxiety-filled day any more than I have. And I have just yelled at him for not being normal.
I've done something terrible, I think to myself.
I look at my child, who I absolutely adore, who I have just thrown such dreadfully hurtful words at, and I wish I could have the chance to take it back.
I didn't mean it. I wouldn't trade you for anything in the world.
I sink down onto the couch and dissolve into tears. I am full of self-loathing, and every fibre of my being is wondering what damage I have done, and how much I have set back my child's progress.
As I sit there sobbing, with my face buried in my hands, I feel a small movement next to me. I look up and he is there, looking at me with a combination of confusion and concern.
"Go give Mommy a hug," he says softly, and wraps his arms around my neck.
And that makes me cry even harder.
(Photo credit: butupa. This picture has a creative commons attribution license.)