Kerry White has a few things in common with me. She was also born in South Africa, and she also lives in North America (Texas, to be exact). Like me, she knows what it's like to parent a small energetic boy. And like me, she knows what it's like to live with mental illness, including depression and social anxiety.
I first got to know Kerry through a now mostly-defunct Yahoo group called Homesick South Africans. During its heyday, this group was the venue of some lively discussions – a few of them controversial, many of them humourous, almost all of them supportive. Several friendships that formed during the group's active existence have continued through social media. I am so grateful to the Internet for existing, because without it, my friendship with Kerry would not have evolved in the way it has. This is a woman for whom I have a great deal of admiration and respect.
As I strive to talk about my own struggles with mental illness, I am immensely grateful to Kerry for this post, in which she frankly and courageously shares her own journey.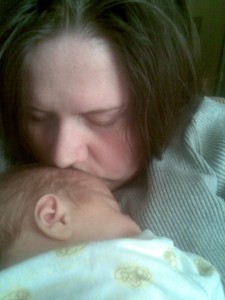 So I think I'm crazy. Absolutely strait-jacket-heavily-medicate-me-and-lock-me-up crazy! I have felt this way for a very long time, probably since I was about ten years old and reading my first Stephen King books. I recognized the signs of madness in my mind from the characters in some of his books.
As a much more jaded adult, I now recognize myself for what and who I am. I have severe depression, social anxiety, obsessive compulsive disorder, and it all comes bursting forth in the less than neat and tidy package of major panic attacks. I live with mental illness, and I am terribly ashamed of it. I feel broken, less of a person, less of a woman, and worst of all I feel like a terrible mother because of it.
Growing up in South Africa in the 80s, my mental illness was not recognized for what it was. My anxiety, and shyness, and my odd acting out behaviors gave the impression that I was a difficult child; not that I was a child in dire need of some thought of help.
Don't get me wrong, my childhood was not unpleasant at all. My parents were hard-working and loving individuals who did the best they could for us during rocky financial times. But there was no such thing as depression, anxiety, panic attack, mental illness. There was just doing what needs to be done, threatening electroshock therapy when I refused to communicate about an assault when I was a teenager, and threatening to send me away to a mental institution. At 16 I was admitted to a psychiatric hospital for teenagers who are in crisis. I felt normal! I felt accepted! I felt safe! I was there for two weeks and then released, but promptly tried to kill myself because I didn't get the support I needed at home. I spent another several weeks in there, but soon learned that I was better off shutting the part of myself I thought to be crazy away. I was never going to get support outside of the walls of that mental health hospital. I was always going to be told to just suck it up and get over it. Because that was just the way things were handled.
I have spent the better part of my adult life trying to just get over it, trying to avoid the idea that I have a problem that no amount of "getting over" will fix. I have tolerated abusive partners, abusive bosses, and abusive coworkers; because I felt I wasn't worth more.
When I had my son, my depression and anxiety kicked into high gear – but I expected it to. I refused to take the prescribed antidepressants, in case they made me worse (as others have done in the past), or someone saw me as too weak to raise this child. But I do recognize now that I should have not only taken the medication but sought out help. Help wasn't offered for my "baby blues" and I didn't go find it. It got to the point, several times, where I wanted to end my life because I was so miserable and felt like such a failure.
I've found myself mentally standing on a ledge, with nothing behind me, not even one hand to reach out and pull me to safety. But then the knowledge of the small body pressing against me, raising out a hand and calling out for "mommy" reminds me that if I jump off of this mental ledge then he loses himself, too.
As my son's needs have changed, so has my mental illness. It has to. I have to get us dressed and get him to daycare so that I can work. I work at home, which just encourages my social anxiety. We need to go to the store and get milk and the occasional toy car, so I steel myself and leave the house. For him.
I've made myself get on a plane to visit family; I've made myself go visit friends. But it is hard. I have to find a way to change this, for my son.
So what is my next step then? I have more anxiety than will allow me to even see a therapist. What if they deem me to be as unfit of a mother as I feel some nights when sobbing over a panic attack or crying in my office when he is at school? I can't just "suck it up and get over it." I have tried. Believe me, I have tried.
I feel crazy. Insane. Broken. But this is my normal. I just wish I didn't feel so much shame and fear along with it. How do I find the inner strength I need to get help and not feel so broken? Help that will not judge me as being weak or unfit as a single parent?
My heart breaks for others who feel like I do, and I do my utmost to help them. I even write helpful blogs and books for a counselor who helps women like me!
Why then can't I find what I need in order to help myself work through this? At what point will my son notice that his mommy isn't like other mommies? I do not want to continue trying to bury my mental illness, but I do not know any other way to function. I am not strong, I am doing what I need to do in order to provide for this boy that the universe has seen fit to place in my care.
To find out more about Kerry and the children's books she is writing, visit her website!
  (Photo credit: Kerry White)