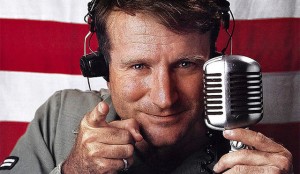 Last night, for the first time ever, I cried over a celebrity's death. My tears had nothing to do with the loss of such an immense talent – although I have been a Robin Williams fan for decades – and everything to do with the fact that another life has been lost to mental illness.
I suspect that I am not alone. I suspect that right now, people all over the globe are relating to the drowning feeling of depression that drove Robin Williams to seek such a desperate escape. Several times since this tragic news broke, I have seen variations of one overriding question on my social media feeds: if a man with the financial resources of a celebrity could not find the help that he needed, what hope is there for the rest of us?
The truth is that while money can buy therapy, it does not buy the understanding of those around us. I started seeing my therapist four years ago, and although it has undoubtedly helped me, the benefits I have gained have been severely restricted by the stigmas and misconceptions that surround mental illness to this day. A number of conditions have to be met in order for therapy to truly work. The right therapist is one. Adequate support and understanding in your daily life is another.
It's not to say that people don't care – it's just that many of them don't understand. If I had a dollar for the number of times I've been told that depression is not a "real" illness, I'd had enough for an entire team of therapists.
I've written about the misconceptions surrounding depression before, but they are worth repeating, especially now that Robin Williams has put such a focus on it by taking his own life.
* When I am in the grip of depression, I cannot "snap out of it". Asking someone to snap out of depression is like asking them to snap out of a heart attack.
* Depression is not to be equated with sadness. It cannot even be regarded as a severe form of sadness. Depression and sadness are two completely different things, in the same way that asthma and the common cold are two completely different things.
* Suicide is not a selfish, cowardly act. It is the act of someone who is desperate to get away from a terrible, desolate, frightening situation, and who sees no other escape route.
* Contrary to a popular Facebook meme, people with depression are not "focused on the past", and they will not magically cure themselves by living in the present.
* Sometimes, for some people, the right medication can lead to dramatic improvements in quality of life, but it's not for everybody. Someone who refuses medication is not being stubborn. They might be afraid, or they might have learned from experience that it doesn't work for them.
* A person with depression is capable of smiling, laughing at jokes and having a good time with friends. If you see a picture of someone smiling, don't say that they "can't be that depressed". Robin Williams himself is a perfect illustration of that.
This list is a drop in the bucket, but if we can shift peoples' understanding on these few points, that will be a good start. If you suffer from depression, don't be afraid to talk about it and ask for help. It's really nothing to be ashamed of. If you know someone with depression, be there for them. One of the scariest things for a person with depression is the feeling of being alone in the world.
The death of Robin Williams is a great tragedy. It will be an even greater tragedy if we don't learn something from it. If his death leads to greater awareness and understanding, and saves just one person from suicide – well, I think he would like that.
This is an original post by Kirsten Doyle. Photo credit: BagoGames. This picture has a creative commons attribution license.